While OLED TVs have their strong points, they're not the best option if you are looking for higher peak brightness, such as the ones required for well-lit rooms. Generally speaking, they are also quite expensive and the newer Quantum Dot TVs have them beat for color space. So if you're looking for OLED alternatives, well, your reasons are justified!
With that in mind, there are still a ridiculous amount of TVs in the non-OLED market, and picking the best ones can be challenging. Luckily, we've done that for you! The products we have picked are the best, in our opinion and should be value additions to your home.
What are non-OLED TV?
A non-OLED TV refers to standard LED or LCD TVs. Unlike OLED TVs, non-OLED TVs don't feature an organic light emitting diode. Additionally, they only feature a single backlight rather than multiple, that flow through filters and polarizing layers to deliver great image picture and quality.
OLED TVs are famed for their wide viewing angle and image brightness. However, they are not always the best solutions. Compared to other types of display technologies, OLED TVs don't have the longest lifespan.
Additionally, OLED TVs have pretty average brightness levels, are susceptible to burn-ins, and can be quite expensive. On the other hand, OLED TVs are versatile. You can find different technologies such as LEDs, QLEDs, and nano cell TVs, each with its own advantages.
OLED v LED
Differences in tech
OLED TV refers to a TV screen or display technology that integrates an organic light emitting diode. Unlike other display technologies, OLED TVs feature a single diode that produces light and color. So, they don't use a separate backlight. Instead, the image produced on your screen comes for individual light and color.
Picture Quality & Cost
Due to this design, OLED TVs offer a perfect black screen level and excellent color. OLED TVs tend to be slimmer, flexible, and offer a wider viewing angle. However, compared to LED TVs, OLED TVs are significantly more expensive. On the other hand, an LED TV combines an LCD and LED design combination.
Backlight
It uses an LCD panel to create the TV's image or pixels. The LED component produces the backlight that shines through the LCD panel to produce the colored and lit picture. So, while a QLED TV uses a type of LED display technology, you can also find non-OLED TVs with other technologies.
OLED v QLED
Differences in tech
OLED refers to organic light emitting diode while QLED refers to quantum dot light emitting diode. QLED display technology works using an LCD backlight panel and the quantum dot color filter. The filter is placed in front of the panel, which, in turn, helps to boost color, contrast, brightness, and vividness.
Quantum Dot Color Filter
QLED simply overlays a quantum dot color filter to the LCD pixel panel to improve image quality. On the other hand, QLED TVs use a different technology that doesn't involve backlight panels.
Price and Brightness
QLED TVs tend to be much cheaper. They also offer much efficient power and brightness compared to OLED TVs.
Best non-OLED TVs
A premium high quality, free 4K resolution 65-inch QLED TV
The Samsung QN90A QLED TV features a collection of exclusive mini LED light cell technology to deliver balanced brightness and dimming.
Top Features
Built-in tuner for premium free 4K TV content
On-screen dynamic object tracking sound+
Dark & bright scenes
The Samsung QN90A combines premium Quantum Matrix technology with Samsung's patented Quantum Mini LEDs The QLED TV offers balanced and fine-tuned dark and bright scenes in any setting using these two technologies.
To give you a consistent full 4K resolution, the 65-inch TV integrates a powerful AI upscaling through the Neo Quantum Processor.
AI-Powered 4K Display
Furthermore, you can use the built-in tuners and ATSC 3.0 technology to enjoy free, high quality TV content. On the other hand, the QLED TV integrates motion Xcelerator Turbo+ technology. This technology offers motion enhancements up to 4K 120 Hz. This improves viewing experiences while watching sports or action movies.
Sound
The TV doesn't focus its excellent performance on image quality alone. Through its impressive Object Tracking Sound, the TV offers dynamic sound integration which syncs with the on-screen signal. There is no Dolby Vision however!
What I liked
Available in four other sizes
Uses AI-based technology to improve image clarity
Designed to bring details of on-screen action to life with rich colors, deep contrast, and tone mapping
Powerful dual 60W output speakers
Tech Specs
| | |
| --- | --- |
| Display technology: | QLED |
| Resolution: | 3,840 x 2,160 |
| TV size: | 64-inch |
| Wifi connectivity: | Yes |
| Bluetooth connectivity: | Yes |
A smart Google QLED TV with HDR Pro technology
Integrating an HDR Pro and AiPQ Engine tech, the TCL smart TV delivers incredible pictures as you watch
Top Features
VRR premium game play quality
Contrast control zone technology
Google-friendly voice control
The TCL 55-inch QLED TV is built with image quality in mind. The TV combined a mini LED-backlit display complemented with a QLED technology. Combined, the two designs optimize wide color display and impressive image contrast.
Image Quality
Additionally, the TV features a contrast control zone technology which helps to improve contrast further. The TCL Class 6-Series is equipped with a patented AiPQ Engine technology which helps to automatically adjust and enhance the quality of image as you watch the TV.
Dolby Vision and Smart Functionality
On the other hand, the QLED TV features the HDR Pro technology for a dynamic Dolby vision range. The TV features a smart design, allowing for voice control. You can use it with Amazon Alexa, Google Assistant, or Apple Siri.
What I liked
Cord-cutting design reduces wire clutter and mess
Voice control compatibility with Alexa, Google, and Siri
Chromecast built-in allows you to cast your TV
Automatic game mode for fast gaming and big screen viewing experience
What I didn't like
Average sound quality – 15W speakers
Tech Specs
| | |
| --- | --- |
| Display technology: | QLED |
| Resolution: | 3,840 x 2,160 |
| TV size: | 55-inch |
| Wifi connectivity: | Yes |
| Bluetooth connectivity: | Yes |
Best Non OLED TV for wide viewing
Large screen QLED TV with wide viewing angle
Integrating an 85-inch display and an ultra wide view angle, the Samsung QN85A TV allows you to enjoy the best picture quality.
Top Features
Ultra fine Quantum Matrix light control technology
4K clarity Neo Quantum Processor
HDR10+ tone mapping
The Samsung QN85A 85-inch TV features an extra large display and a wide viewing angle. You can use it for anything from sports viewing to movies or gaming nights. To complement the nice viewing angles and size, the TV uses a Quantum Matrix technology.
Quantum Matrix Technology
This technology combines patented mini LED light cells with exceptionally balanced brightness and dimming for the ultimate light control. In turn, you will receive superior image quality, clarity, and contrast.
AI-Powered 4K Processor
Its AI 4K processor helps to improve the TV's intuition for optimized 4K clarity throughout your viewing. The powerful HDRPro10+ tone mapping technology also provides deep contrast and perfect color tones to enhance your viewing experience.
What I liked
Large 85-inch display
3D audio sounds with powerful 60W speakers and object tracking sound technology
Quantum dot technology delivers the finest picture using its 100% color volume
Anti-reflective technology reduces glares and distractions
| | |
| --- | --- |
| Display technology: | QLED |
| Resolution: | 3,840 x 2,160 |
| TV size: | 85-inch |
| Wifi connectivity: | Yes |
| Bluetooth connectivity: | Yes |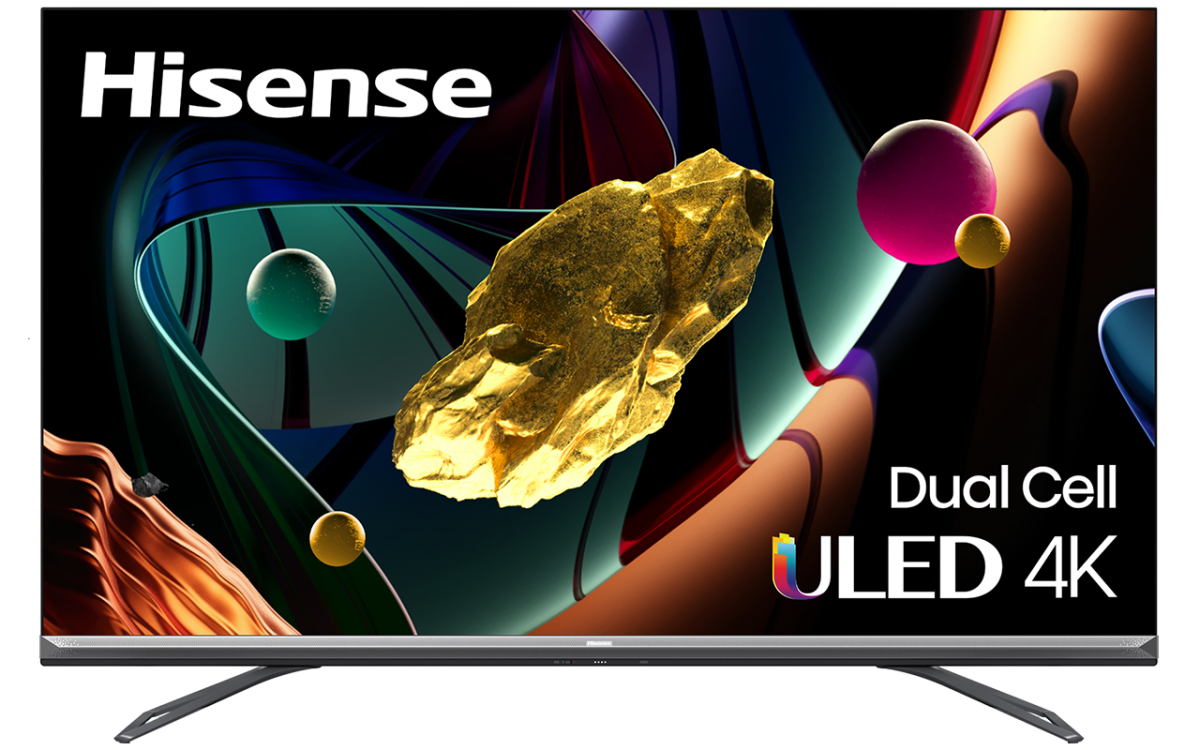 A dual cell LCD TV
Designed with dual cell technology, the HiSense U9DG Android TV guarantees superior contrast and 4K viewing.
Top Features
4K ULED technology
Million+ dimming zones
Dolby Vision and Atmos cinema technology
The HiSense U9DG Android TV features advanced dual cell technology to improve your viewing experience. The android TV integrates a two-panel design which enhances contrast by up to 40 times than regular LCD TVs. The dual panels feature a luminance control and 4K one, in turn, providing accurate picture color and grayscales.
Picture Quality
The 75-inch LCD TV features a versatile design that adapts to your viewing. Its Hi-View 4K engine continually adjusts the picture to fine-tune all its details, including shadows, brightness, and motion. With up to 1,000 nits and over 2 million dimming zones, the TV offers peak brightness, allowing you to enjoy viewing even better.
Dolby Vision & HDR
Additionally, the U(DG TV is built to deliver cinematic quality pictures thanks to its Dolby Vision HDR picture and Dolby Atmos technology. Its 120HZ native refresh rate and ultra motion technology allow you to experience action scenes and programming at a higher level.
What I liked
Built-in microphone for excellent hands-free operation
Google Assistant and Alexa enabled design
Dual cell and 4K ULED technology improves contrast and brightness
Game Mode Pro feature makes it a great TV for gaming
| | |
| --- | --- |
| Display technology: | ULED |
| Resolution: | 3,840 x 2,160 |
| TV size: | 75-inch |
| Wifi connectivity: | Yes |
| Bluetooth connectivity: | Yes |
An intuitive and truly smart TV
The Cognitive Processor XR technology allows the Sony Bravia TV to understand human perception and optimize it for a better viewing experience.
Top Features
4K/120fps gaming mode
Intelligent XR fast moving motion clarity
XR 4K upscaling
The Sony Bravia smart TV is designed using the Cognitive Processor XR technology which accurately responds to how you hear and see. In turn, it helps to fine-tune the sound, contrast, brightness, and colors for an improved viewing experience.
Backlight
The LCD TV combines a selection of LED and XR contrast boosters to control the backlight for peak brightness and the right blackness.
Samsung;s Patented Tech
To complement the color, brightness, and contrast accuracy, the TVfeatures an XT Triluminous Pro technology. Additionally, the Sony TV integrates its own proprietary Bravia core technology, which allows you to experience cinematic streaming from the comfort of your home.
Google TV
The Google TV gives you access to over 700,000 movies and TV series. You can also access the live TV option. If you want to expand your options, the Sony TV allows you to stream content from Netflix, YouTube, and Amazon Prime, amongst the few popular streaming services.
What I liked
TV speakers with tweeters for acoustic sounds
Google Assistant voice control enabled
Compatible for mounting with slim wall mount brackets
Voice Zoom 2 technology enhances video voice clarity without turning up the volume
| | |
| --- | --- |
| Display technology: | QLED |
| Resolution: | 3,840 x 2,160 |
| TV size: | 65-inch |
| Wifi connectivity: | Yes |
| Bluetooth connectivity: | Yes |
The ultimate gaming TV
Integrating a 4K ULED technology, the HiSense 55-inch Android Smart TV is built for gamers.
Top Features
Quantum dot color technology
Game mode Pro
IMAX enhanced and DTS audio technology
The HiSense U7G smart TV is a great go-to device for gamers, featuring a game mode pro design. The TV features dual high speed 2.1 HDMI ports coupled with modern software to accommodate the ideal setting for uninterrupted gaming sessions.
Refresh Rates
It also supports low latency mode and variable refresh rate of up to 120 Hz to improve the display, motion, and play. However, the TV's is still a viable option for a home studio, because of its improved image and sound quality.
Cinematic Experience
It integrates a patented Dolby Vision and Dolby Atmos technology. IThe U7G's combined 1000 nits peak brightness and 72 different dimming zones improve brightness, contrast, and dimming control too.
What I liked
Available in 55, 65, and 75-inch displays
Built-in microphone for hands-free voice operation
Works with Google Assistant and Amazon Alexa
Find my remote feature on the TV helps you to retrieve it if you misplace it
| | |
| --- | --- |
| Display technology: | ULED |
| Resolution: | 3,840 x 2,160 |
| TV size: | 55-inch |
| Wifi connectivity: | Yes |
| Bluetooth connectivity: | Yes |
A cheaper QLED TV with features of an OLED TV
Thanks to its superior quantum color dot design, the Vizio Smart TV delivers a performance of an OLED TV while remaining budget friendly.
Top Features
Intelligent IQ ultra processor
Active Pixel Tuning
4K HDR & HD SDR technology
Designed with up to 12000 nits of peak brightness and 210 dimming zones, the Vizio smart TV delivers accurate and clear imaging.
Processor
The TV is built to analyze images and relay the truest pictures intelligently. Its active core processor pays attention to every color, blackness, and contrast, helping to fine-tune the final image.
Quantum Color
On the other hand, its quantum color technology integrates over a billion different colors to offer up to 115% more color volume than standard 4K TVs. This results in better and more vibrant image colors.
UHD & Dolby Vision
The 4K UHD and Dolby Vision HDR help to further improve the cinema-like viewing experience. For gamers, the TV offers powerful gaming features. These Include dual HDMI ports, a high refresh rate of up to 120fps, and ultra short input lag time.
What I liked
Free and unlimited award-winning smart casting
Compatible with Google, Alexa, and Homekit
High motion clarity of up to 240 makes the TV ideal doe action-packed streaming
Advanced QLED technology offers up to 120% more color than standard 4K TVs
What I didn't like
SmartCast can sometimes be slow
| | |
| --- | --- |
| Display technology: | QLED |
| Resolution: | 3,840 x 2,160 |
| TV size: | 75-inch |
| Wifi connectivity: | Yes |
| Bluetooth connectivity: | Yes |
Best Non-OLED TVs Decision-Making Factors
Screen Size
When choosing the best non OLED, you have to consider important factors such as the screen size. Typically, you will find non OLED TVs with screen sizes ranging from 55 to 85 inches. The ultimate choice depends on your preference.
Think of how close you will sit to the TV and where you want to place it in the house. If you want it in a small personal room, a smaller size will do. If you want a TV for gaming or a home theater, you are better off with larger screen size.
Display Panel
The display technology matters when choosing a non OLED TV. After all, the display panel design and technology will determine your viewing experience. Here are some of the common options;
ULED: ULED technology is primarily used by HiSense, ULED display technology for its high end and top quality LCD TVs. Unlike display panels such as QLED or OLED, ULED is not a conventional TV technology. Instead, it is simply applied to a small collection of HiSense TVs.
Such TVs feature an array of local backlight dimming, wide color gamut, 4K resolution, and a premium built-in image processor.
QLED: Quantum dot color LED TVs use quantum dot films and LCD backlight panels to produce pictures. The quantum dot film is attached to the LCD to brighten up the images on your TV. After OLED, QLED is considered to be the next best TV display technology.
Nano cell: Typically used in LG TVs, nano cell technology integrates a layer of filter attached at the top of the TV's LCD panel. This design helps to improve color depth and tones.
Dual cell: Mostly used by HiSense in some of its TVs, dual cell technology works nearly similar to nano cell. However, it features two liquid crystal filters. However, these filters help to improve black levels and color contrast.
LED: Light emitting diode display panels are simply a type of LCD TV. These types of TVs combine an LCD panel with LED backlighting. The LED attached to the LCD panel is what gives the TV its bright and color contrast images.
Typically, LED TVs come as a full array with lighting behind the screen. Alternatively, they come as edge lit TVs with the LED placed at the edge of the screens.
Room Setting
Choosing the best non OLED TV isn't simply about picking a model that looks most attractive to you. You have to consider different factors to ensure you find the right option. These include the room setting where it will be placed.
Don't only think of your viewing angles. You have to consider the environment too. Think of the light setting of where you will place the TV. Is it bright or dark? Does it need the TV to have an anti-glare reflection technology?
Having this information on hand allows you to choose the best TV features and display technology. After all, you want to pick a TV option with features to match your surroundings for the best viewing experience.
Smart TV Features
Smart TVs come with several benefits. You will notice that they give you access to multiple streaming services and content. However, this is not always for free. Therefore, while this option appears cheaper than traditional viewing, you will still incur some costs. Depending on your usage, you may even find yourself paying more. After all, different services have different costs, including streaming subscription fees or pay-per-view fees.
Here are the key benefits of using a Smart TV;
No need for a cable subscription to enjoy viewing and audio content, including movies, series, and music
Access to the internet and browser
Preloaded with multiple streaming services such as Netflix and Amazon Prime
Improved gaming experience
Smart share, viewing, or casting functions
Access to compatible media content stored on a computer
Most smart TVs still allow traditional viewing through cable and satellite subscriptions if you want to
Some smart TVs offer voice control features with Amazon Alexa, Google Assistant, and Apple Homekit compatibility
Gaming
You can find a myriad of non OLED TVs suitable for gaming. Nonetheless, you have to ensure you find the right features. When choosing a TV for gaming, pay attention to key gaming features such as response times and rates and the TV's processing capabilities.
You need to opt for a TV with at least a response time of a fraction of a second and a response rate of at least 120. Ideally, you also want the TV to have a FreeSync feature and a minimum of 2 HDMI input ports.
The Verdict
Investing in the best non OLED TV allows you to enjoy an excellent viewing experience without having to dig deep into your pockets. Without being stamped with a high price tag, these TVs still offer incredible features. You can use them for anything from gaming to watching an action-packed movie.
A premium high quality, free 4K resolution 65-inch QLED TV
The Samsung QN90A QLED TV features a collection of exclusive mini LED light cell technology to deliver balanced brightness and dimming.
Top Features
Built-in tuner for premium free 4K TV content
On-screen dynamic object tracking sound+
Dark & bright scenes
Sources