From climate change to ever-increasing utility bills, there are plenty of reasons to conserve water and energy in the home. When checking off energy hogs, you'll find the daily shower is a major culprit pumping out gallons of water and burning electricity to get it nice and hot.
While the idea of reducing the time spent in the shower is noble, habit is a hard thing to break! To force your hand, you can set up a shower timer shut-off system so when the time is up, it really is up.
There are two different ways to implement an automatic shut-off system. You can either install a dedicated smart shower device or you can cut the water at source with a smart valve controller.
Below, I dive into each approach while detailing some factors to consider when making your choice.
Approach 1: Shower Timer & Automatic Shut Off Device
Top Pick
A smart shower system that comes with a built-in shut-off timer
RUNNER UP
A dedicated shower shut-off timer device
Approach 2: Smart Water Valve
Top Pick
Retrofits existing ball valves with an optional Wi-Fi module for non Z-Wave implementations
Runner Up
Powerful valve motor that integrates well with Z-Wave networks
What is a Shower Timer Shutoff?
A Shower Timer Shutoff is a device designed to control the duration of a shower to conserve water and energy.
It functions by automatically shutting off the water after a predetermined amount of time, encouraging more mindful and eco-friendly shower habits.
These devices can be particularly beneficial in settings where water usage needs to be monitored or reduced, such as in shared bathrooms or areas with water shortages.
The timer can usually be adjusted to suit individual needs, and some models may include additional features like countdown displays or audible alarms.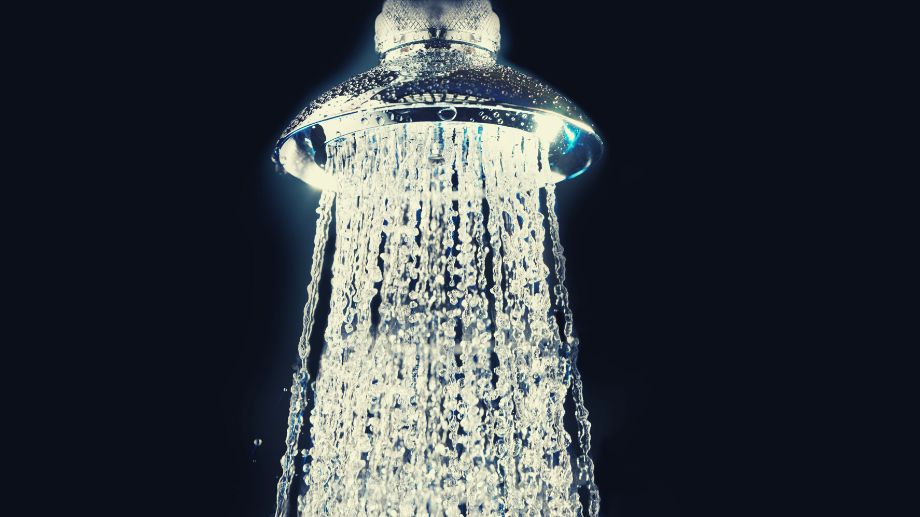 How does a Shower Timer Shut-off work?
A Shower Timer Shut-off works in one of two ways: through a dedicated smart shower device or via a smart valve controller.
Shower Timer & Automatic Shutoff Device
In the first method, a smart shower system is installed directly into the shower unit itself, featuring built-in timers that can be easily set and adjusted to automatically shut off water flow after a certain duration.
This system may also include advanced features such as temperature control, digital displays, and connectivity to home automation systems. An example of this type of system is the U by Moen.
Smart Water Valve Shutoff
In the second method, a smart valve controller is used to manipulate the water supply at its source.
This device can be integrated directly into the water feed or can be positioned over an existing ball valve to motorize it.
Then the device can be configured via a connected Wi-Fi, Z-Wave or Zigbee system (sold separately) to automatically turn on or off based on certain conditions.
The location of these devices will naturally depend on your water supply layout. They are typically located outside of your bathroom area and usually need a power source located nearby.
My Two Cents
I'm very guilty of treating our bathroom like a steam room, with extra long 25-minute showers to help relax and unwind!
Recently, for this website, I tested out a home energy monitor, (review here) and was surprised to find that those extra-long showers were costing me a fortune. The Mira power shower unit I use has an 11kW rating and the cost of electricity has skyrocketed in the last 12 months.
This experience was the main reason for looking into shower timer shutoff devices, as I clearly need to cut back on this daily routine!
Approach 1: Shower Timer & Automatic Shut Off Device
In this approach, a device is integrated directly into your shower system. It can be a smart shower system like the U by Moen, which has lots of functions including a shower timer. Or it can be a dedicated shower timer device like the Acqua.
A smart shower system that comes with a built-in shut-off timer
Specifications
Color: Matte Black

Style: Shower Controller + 4 outlet Valve

Voice Control: Yes

Smartphone App: Yes

Soft-touch Button Controls: Yes

Wi-Fi Connectivity: Yes

Valve Compatibility: 2-outlet & 4-outlet
The Moen smart shower comes in two parts. The first part is the shower controller with an easy-to-read 5" non-touch LCD screen with 2 outlet operation. The second part is the smart valve, which is available in 2-valve and 4-valve outlet models.
As there is both plumbing and electrics required, I recommend hiring professionals to assist with the installation.
How to setup the timer
In the Moen App, to set the timer, tap the "Timer" row. 
Once there, enable the timer by sliding the control from left to right, then set the desired duration up to a maximum of 20 minutes. (You can adjust the timer in terms of minutes and seconds to meet your preferences.)

The system default setting issues an audible tone from the controller to indicate when one minute is left, but this can be switched off by sliding the control from right to left. 

The shower continues to run by default once the timer hits zero, but you can opt for it to automatically turn off by sliding the appropriate control from left to right. 

After finalizing your timer settings, press "Done" to save these preferences and return to the "Preset Edit" screen.
What I liked
Matte Black finish

Control your shower via voice, phone, and controller

Easy-to-read LCD screen

Wi-Fi connected

Limited Lifetime Warranty: 5 years
What I didn't like
Valve sold separately

Quite an expensive shower upgrade with multiple trades required - Best suited for a full bathroom remodel
Other Features 
The U by Moen can be integrated with Siri, Alexa, or Google Assistant, so you can issue voice commands to choose from various personalized settings, including the temperature, rainfall, and massage spray options. You can even opt to upgrade your existing Moen unit with this.
Regarding hands-on control, the clear LCD screen and soft buttons let you easily manage multiple shower outlets. You can have up to 12 customized options when you download the app.
The controller comes in striking Terra Beige or Matte Black finishes, blending seamlessly with your bathroom design and complementing Waterhill, Voss, and Isabel Rainshower and Eco-Performance Handshower options.
A dedicated shower shut-off timer device
Specifications
Water-saving Timer: Yes

Leak Prevention: Yes

Recharges with water flow: Yes

Stainless steel lining & reinforced protector (sold separately)

Three-Phase Programming: Yes

Set maximum daily shower limit
Unlike the U by Moen which is a smart shower system, the Acqua Tempus is a dedicated shower timer shutoff device.
Installation of this device is relatively straightforward and doesn't require any plumbing or electrical modifications. Just connect the 70-cm hose to the shower tap outlet and mount the bracket easily on vertical shower bars or walls. The lithium battery that powers the device recharges with a minimum water flow of 7 liters per minute.
This gadget has three-stage programming: 
Shower 

Foam

Delay or stop 
Each program phase lasts up to 20 minutes and is controlled by an automatic internal valve.
There are optional accessories like the Security Lock and the Function Plus. The security lock is a tamper-proof safety lock that secures the faucet connection, ensuring the user cannot bypass the Acqua Tempus. 
The function lock blocks the device when the maximum limit of scheduled showers has been used for the day. This system ensures water security and conservation in homes or hotels.
What I liked
Saves water and gas by restricting maximum shower time

Easy to install

Bracket and 70cm hose included

Prevents water wastage 

Lithium battery charges with the passage of water

No electrical installation needed

Three-phase program: Each has a 20-minute maximum time limit

The Function Plus accessory limits the number of showers per day

Comes with a 2-year warranty and free repairs
What I didn't like
Requires minimum water flow of 7 liters per minute for the battery to charge correctly

Optional accessories are sold separately

Customers shoulder international shipping customs clearance costs and local taxes
Other Devices
ShowerBoss provides shower timer cut-off systems for both residential and commercial use. You can find more information about these systems here.
If the devices mentioned in this article seem too complex, an alternative low-tech method to conserve water would be installing a self-closing valve, like this one here. These valves are commonly found in gym and locker room showers. 
Approach 2: Smart Water Valve
Next up on the best shower timer shutoff list are smart valves. When installed on the pipework leading to the shower, they allow you to remotely control the water flow.
As these devices can be programmed in a smart hub and can interact with other devices, you can get creative when creating a shower shutoff system.
Example Routine
Configure a routine within the Alexa app to "Start Shower." Then by saying "Alexa, start shower", this triggers the smart water valve to open, providing water for the shower. 
A delay of, say, 5 minutes is set within the routine. Once the 5 minutes are up, the routine triggers the smart water valve to close, which stops the shower. A further delay of, say, 10 minutes is then added to prevent someone from trying to continue the shower.
The above routine could be further improved by being triggered via a battery-powered smart button located beside the shower. A battery-powered light could also illuminate to signal that the shower has started.
Retrofits existing ball valves with an optional Wi-Fi module for non Z-Wave implementations
Specifications
Compatible with up to 1.5" valves

Works with Smart Devices: Yes

Optional Bulldog-WiFi: Yes

High Torque: Yes

Plug-In Wired Leak Sensor: Yes

Smooth plastic finish

Attaches to the valve body
The valve robot's easy installation process requires only the basic tools and no plumbing skills, making it hassle-free. Its design fits various valve sizes from 1/2" to 1.5", and it can tackle tough valves with powerful torque and smart stroke management.
Compatibility is a bonus, as the robot works with many smart home systems like SmartThings, Hubitat, Wink, and Honeywell.
For homes without smart home controllers, the optional Bulldog Wi-Fi lets you connect to your local Wi-Fi network to control the valve using your smartphone.
Some users have mentioned that the instructions can be hard to follow. However, they also said that customer support is quick to help with any installation issues.
What I liked
Easy installation

No special tools needed

Compatible with various smart home controllers

High torque for tough valves

Robust materials 

Some customers complimented the quick and responsive customer support

Customization options available

When paired with water leak sensors, helps prevent water damage
What I didn't like
Some users have found the instructions hard to follow

Occasional slipping issues on the valve were reported

Some device testers mentioned the unavailability of wired sensors
Powerful valve motor that integrates well with Z-Wave networks
Specifications
Smart Flood Prevention: Yes

Powerful motor for reliable valve control

Easy to install without tools

Suitable for outdoor use

Can integrate water leak sensors

Works with 0.5" - 1.25" ball valves

Z-Wave Compatible: Yes
Similar to the EcoNet, the the Zooz Actuator can retrofit existing ball valves for smart control. Through a connected Z-Wave network, you can then configure scenes and routines as mentioned above, to implement a shower time shut-off system.
The strong motor of this water valve actuator works well with stubborn valves. It is compatible with ball valves from 0.5" to 1.25", making it suitable for various plumbing systems, and the IP66 rating means it can be used outside.
I like that this device is quick and easy to install and offers improved signal coverage and faster communication with the 700 Series Z-Wave chip. 
The actuator also has S2 Security and SmartStart features, allowing smooth integration with your smart home systems like SmartThings, Hubitat, and Home Assistant.
What I liked
Easy installation

Robust motor for hard-to-turn valves

Works with or without a hub

Compatible with popular Z-Wave hubs

Compatible with water leak sensors (sold separately)

Adjustable clamps for flexibility

Can be used outdoors (IP66 rated)

700 series Z-Wave chip for a stronger signal and faster communication

Warranty: 5 years
What I didn't like
Limited valve compatibility

Requires ample clearance for installation

May be easily removed if installed outside
Factors to Consider when Implementing a Shower Timer Shut-Off System
1. Shower System Compatibility
Ensure that the device you select is designed to work seamlessly with your current shower's components and layout.
For instance, the U by Moen Shower Controller is available in both two-outlet and four-outlet models, making it suitable for various shower configurations.
Alternatively, the Acqua Tempus shower timer has a universal design that can be easily installed without needing plumbing modifications.
In addition, smart devices such as the EcoNet Controls Bulldog Valve Robot or the Zooz Water Valve Actuator require compatibility with existing ball valves and specific smart home controllers.
2. Installation
You need to consider installation when deciding on a shower timer shutoff. The Moen for example requires large-scale works to implement, while the Acqua Tempus shower timer offers much quicker installation without any plumbing modifications or electrical involvement.
Similarly, the EcoNet Controls Bulldog Valve Robot fits over existing levered ball valves with sizes ranging from 1/2″ to 1.5″, and it comes with all necessary mounting hardware and instructions.
3. Set Time Limit Range and Adjustability
A device such as the Acqua Tempus shower timer offers programming with three phases and a maximum time limit of 20 minutes each, ensuring control throughout your showers. With its automatic internal valve shutoff feature, you can conserve water and save on utility bills.
Remember the adjustability aspects of other devices, like the Moen Smart Shower Controller, which enables customization through its app, presets, and voice-activated controls via Amazon Alexa.
FAQs
How Long Can I Set the Timer for and Is It Adjustable?
Most dedicated shower timer shutoffs can be adjusted to a maximum of 20 minutes, depending on your preference.
With the Moen for example, you can change the timer via the app on your smartphone.
Smart valves, on the other hand, can be controlled through an app on your smartphone or by voice if connected to a voice assistant. In addition, you program the routine on a mobile or desktop app (depending on your smart controller), so it can be whatever duration you want.
Can a Shower Timer Shut Off Be Installed in Any Bathroom?
The installation of a Shower Timer Shut Off device differs based on the approach you take.
Shower Timer & Automatic Shutoff Device
If you're looking at a dedicated device, then the Acqua Tempus is pretty hassle-free as you install it between your tap outlet and the shower head. A mounting bracket is needed for the LCD controller, but that's about it, and you're good to go.
So it's much more likely to work in most bathrooms.
The U by Moen is much more invasive, requiring tiling, plumbing, and electrics, and is more suited to a full bathroom remodel.
Smart Water Valve
The two examples I listed don't require any special installation tools or skills. You just locate the water ball valve that provides water to your shower and mount the motor over it. Align the smart valve handle with the ball valve and screw on the clamps that hold the device onto the pipe.
Make sure to check your device's compatibility and the pipe's size. Double check also for surrounding clearance so that the shutoff can fully operate.
The pipes feeding the shower are unlikely to be visible in the bathroom so you'll more than likely be installing this in a hot press or maintenance closet.
What Are Some Benefits of Using a Shower Timer Shutoff?
Water and Energy Conservation: A shower timer shutoff and smart valves help you track and limit your shower time, reducing water and gas consumption. It promotes responsible water usage and contributes to environmental sustainability.
Increases Savings, Reduces Cost, and Gives Peace of Mind: Reducing your water and energy usage with a shower timer shutoff allows you to be more mindful of your showering habits, ultimately saving you money in the long run.

As for the smart valves, you can extend the functionality of the smart valves by integrating plug-in or wireless leak sensors. You can program the device to shut off the water supply when your sensors detect a leak and alert you on the app.

Imagine if you had a leak while you were away for a couple of days and came home to a water-damaged home that would have cost you thousands of dollars in repairs if you didn't have it.
Convenient and Easy to Use: Shower timer shutoffs are usually designed to be easy to use and install, with the exception of installation procedures like the U by Moen. They often come with features like programmable timers, LCD digital displays, and voice-activated controls, making setting and adjusting your showering preferences simple.
Eco-Conscious Lifestyle: Incorporating a shower timer shutoff into your bathroom routine is a tangible way to embrace a more eco-conscious lifestyle. It demonstrates your commitment to reducing your environmental footprint and encourages sustainable habits.
Increased Awareness: Using a shower timer shutoff heightens your awareness of your water usage and encourages you to be mindful of your daily habits. It prompts you to make conscious choices, cultivating a mindful and sustainable lifestyle in the long run.