Smart beds are absolutely packed with tech! With firmness adjustments, sleep pattern tracking, smart temperature control, smart alarms through vibrations, and smooth changes to the bed frame's position, they really can upgrade your sleeping experience!
Lets take an in-depth look at the best smart beds available today.
Adjustable Bed Frames
Adjustable bed frame with neck and lumbar support
Budget option for adjustable bed frames
Typical Smart Bed Features
Tracking Sleep Metrics
Before you get a little too intimidated by the terminology, sleep-tracking metrics are just a fancy way of saying the smart bed includes sensors to gather data about how you sleep.
Smart beds with sleep-tracking features have sensors (generally embedded in a smart fabric on the mattress) that help capture information related to your heartbeat, restfulness, respiration, movement, and more.
App Notifications
Once the device has all the relevant information, the data is sent to the smartphone app via a cloud, where you'll also receive notifications on how to improve your sleeping pattern.
Depending on the additional features of your smart bed, the data can also be used by the device to adjust settings, such as temperature control, to keep you comfortable throughout your sleep.
Live Response During Sleep
Depending on your smart bed's integration with other smart home devices and extended features, the sleep information gathered by the bed's sensors can be utilized to make specific changes autonomously. This is also referred to as 'live response during sleep'.
For instance, your smart bed can help adjust your thermostat settings if both are integrated within your smart home system. Aside from that, the bed can also change your posture to an optimal position with the help of inflated air tubes inside the mattress.
Alignment and Position Control
You know how a lumpy mattress can lead to endless tossing and turning before you're finally comfortable enough to sleep? Well, folks who find it difficult to find a restful posture can rely on smart beds to do the heavy lifting for them.
A few smart beds on the market feature air chambers (air-inflated tubes) that you or your smart bed can control to adjust your posture to the ideal sleeping position.
This can not only help promote sleep but will also reduce the chances of aches and pains that result from falling asleep in the wrong position.
Sensors
We've already touched upon how smart beds rely on sensors to monitor the way you sleep. These sensors are fitted in the fabric of the mattress to pick up all kinds of information that the smart bed can utilize to give you a better sleeping experience.
For example, sensors that read body temperature can help regulate your room's heating or cooling according to your needs by communicating with your smart thermostat. This way, you won't have to wake up freezing or sweating.
Adjusting Sleep Positions
Apart from that, sensors capturing pressure or movement can help the smart bed adjust your posture to promote ideal sleeping positions. A smart bed with position control can also help stop you from rolling all over the bed by ensuring only a part of the mattress moves while the other remains flat.
Connectivity
As far as connectivity is concerned, smart beds have an extensive range. For example, some beds offer Wi-Fi and Bluetooth capacity to keep your smart bed connected with other smart devices in your smart ecosystem. Internet access also allows you to control your bed remotely via a smartphone app. They can also connect with smart assistants such as Alexa or Siri, to be used through voice commands.
Smart beds also offer other forms of connectivity, with the help of ports for HDMI or audio. There are smart beds that include a multimedia feature that allows you to listen to music or stream movies.
Some beds also come equipped with conveniently-placed USB ports that help you charge your phone or tablets without having to leave your bed to search for a power source.
Best Smart Beds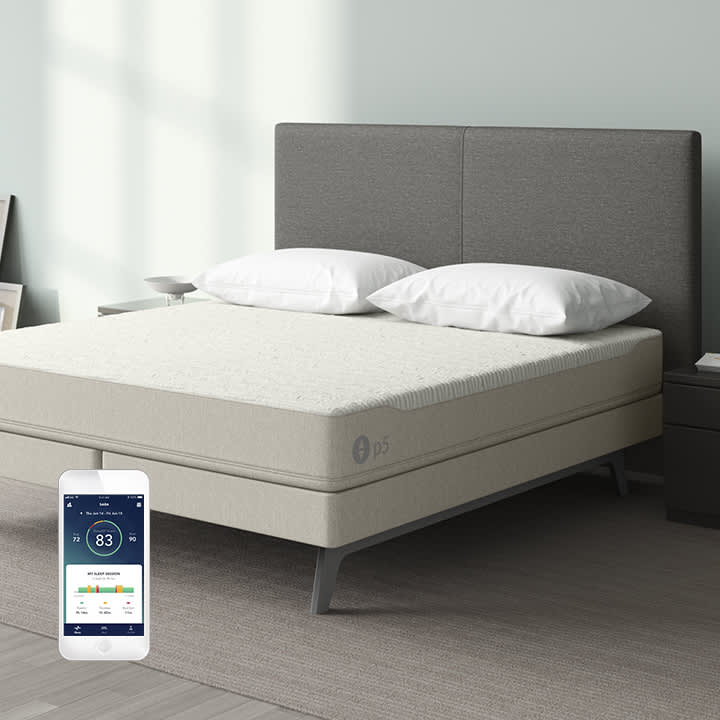 SleepIQ score helps improve your sleep quality
The Sleep Number 360 Smart Bed delivers "life-changing" sleep through a series of technologies.
Top Features
Dual adjustability for comfort and firmness settings
Responds to your movements with Responsive Air tech
Smart fabric and temperature balancing
The Sleep Number 360 Smart Bed Series by Sleep Number combines the innovation of smart technology with mattress features to bring you some of the best smart beds on the market.
The best part about the smart mattresses in this series is that you can choose the specs according to your needs and price range – without missing out on anything.
For example, all the Sleep Number 360 smart beds come equipped with dual adjustability as well as Responsive Air and SleepIQ technology. If you're not sure of what these features offer, allow us to explain.
Dual Adjustability
Dual adjustability helps maintain the firmness and comfort on each side of the bed – according to your sleep number setting. That means couples who have different preferences on the ideal firmness can both get what they want – in a single bed.
Responsive Air and SleepIQ Technology
The bed's Responsive Air technology helps the mattress adjust the firmness in response to your movements for the ideal sleep posture. The SleepIQ technology includes sensors that measure how long and well you slept and offers tips on how to improve your overall sleep via the smartphone app.
Besides that, the Sleep Number 360 smart beds also offer additional features – depending on the series. For example, the performance series combines all the classic series features (mentioned above) with a contouring sleep surface and enhanced pressure relief.
Innovation Series
The brand's innovation series offers the most features, including enhanced pressure relief, a temperature-balancing sleep surface, and a smart fabric that's up to 50% more breathable than regular fabric for an overall enhanced sleeping experience.
Base Frames
Buyers can also extend the features of the smart bed of their choosing by opting for the base frame of their choice. For instance, the FlexFit 3 Smart Base offers additional features including under-the-bed lighting, adjustable head and foot positions, foot-warming, and smart device control.
What I liked
It features remote control via a smart device app.
It offers 9 size options.
It features an optional mattress pad protection.
What I didn't like
This bed is a little high-end in terms of price, so it might not be a good option for people looking for more affordable beds.
Smart sensor tech and Nightvision monitor
The ReST Smart Bed is perfect for buyers looking for insights into their sleeping patterns, along with features necessary for peaceful sleep.
Top Features
It features smart sensor technology with real-time response.
It offers multiple ergonomically-designed body zones.
It features 3 modes of operation.
Another top-tier name when it comes to cutting-edge mattresses is ReST. The brand markets itself as being dedicated to improving the science behind sleep technology, and their efforts certainly show in their smart bed line-up.
Available in three variations: Essential, Original, and Original with gel-grid, the ReST smart beds, offer buyers a plethora of features.
Memory Foam
The beds come equipped with gel-infused memory foam that conforms to your body shape for extended support. The mattress also comes in six different size variations, so buyers with smaller bed frames don't have to fear being left behind.
Smart Features
Now, let's talk about the ReST Smart Bed's top features. Starting from the top, ReST beds include a cooling-fabric sleep skin that's moisture-wicking, removable, and machine-washable.
ReST beds with the gel-grid feature offer even more convenience in the form of an added layer for pressure elimination that molds to your body shape and offers enhanced airflow to keep your body temperature stable.
Next up is the bed's knit-blend fabric 'smart' layer equipped with about 200 points of acquisition to help the bed's NightVision technology collect real-time data related to respiration, body movement, and more. The data is compiled via the smartphone app and gives you personalized sleep analytics to help you improve your sleep pattern.
Adjustment Controls
The ReST smart beds also include five air chambers for targeted adjustments to the bed, with medical-grade polyurethane and welding via electromagnetic energy (RF welding) to prevent the chances of air leaks.
The bed also offers three ergonomically-designed zones for the lumbar region, shoulders, and hip area, so that your body's pressure points remain stress-free during sleep, leading to a reduction in aches and pains associated with incorrect sleeping postures.
The beds also have a 10-year limited warranty, along with a 90-day risk-free trial period.
What I liked
It is equipped with gel-infused memory foam.
The cooling/warming feature is moisture-wicking and can absorb sweat.
It is equipped with gel-grid to supplement support to pressure points.
What I didn't like
The NightVision Monitor offers no tips on how to improve sleep.
Dual-zone heading and cooling
The Eight Sleep Pod Pro is perfect for buyers looking to combine the benefits of smart features such as temperature control, sleep insights and smart alarms.
Top Features
It features real-time tracking and control via the app.
It offers dual-zone heating and cooling features.
It features ambient sensors to track room temperature and humidity.
Another viable smart bed option is the Sleep Pod Pro by Eight Sleep. The five-layer mattress measures 12 inches to ensure superior support and comfort.
But, here's what we like best about this smart bed – the dual-zone cooling and heating feature. It allows you to set a temperature between 55 to 110 degrees Fahrenheit – on either side of the bed.
That means if your partner likes to stay toasty warm while you prefer staying cool during sleep – the Eight Sleep Pod Pro can help you both. You can control this feature via the smartphone app and even set a schedule according to your needs.
Climate Response
The Sleep Pod Pro by Eight Sleep also includes ambient sensors that track the room's temperature and humidity, and make real-time adjustments to the bed temperature to ensure nothing comes between you and your sleep.
Other sleep-tracking metrics include respiration and resting heart rate analysis to monitor overall health. Of course, the sensors also record sleeping time and duration, movements, and more – to present you with an accurate analysis via the app.
Smart Alarm
Many people find it challenging to wake up to the racket of an alarm clock or just simply shut it off and go right back to sleep. However, the Pod Pro's gentle-rise smart alarm gently wakes you up with chest-level vibrations and changes the temperature gradually. This ensures a hassle-free way of waking up – without disturbing anyone else.
Much like all the smart bed options on our list so far, the Eight Sleep Pod Pro also includes a 100-night trial with a full refund, so you don't have to worry about losing money in case the bed doesn't appeal to you. There's also a 10-year warranty for the foam and a 2-year warranty for the bed's technology.
What I liked
It offers a gentle-rise smart alarm.
It features a health check analysis.
It comes with a warranty for the mattress foam and technology.
What I didn't like
No posture adjustment features.
Your very own private theater!
If you're looking to splurge a sizeable sum on your sleep, the HiCan Smart Bed has everything you're looking for.
Top Features
It features sensors and a sleeping coach app to improve sleeping habits.
It features a fully-equipped multimedia system.
Auto-adjust feature to reduce snoring.
This final selection of ours qualifies as the most luxurious of luxury items because it includes everything a smart bed can have. The only downside is the HiCan Smart Bed won't likely fit everyone's budget or space constraints.
Having delivered that caveat, let's talk about the features the HiCan Smart Bed offers. The Italian smart bed comes equipped with sensors that measure everything from your sleep pattern and details to the humidity levels, temperature, noise, light, and air quality.
This bed is marketed with the concept of treating the smart bed as your personal 'cocoon' for wellness, health, and sleep. That's possibly why the bed also includes the option for ambient music and lighting. There's also a handy fragrance diffuser if you're in the mood for a bit of aromatherapy.
Massager & Home-Theatre
The bed also includes an optional foot and shoulder massage option and an entertainment system that comprises a home-theatre audio system, a 4K HD projector, and a motorized screen that measures a whopping 70 inches.
Smart Alarm & Voice Control
There's also the handy smart alarm that wakes you up with the method of your choosing – lighting, music, or both. The innovative fall-asleep feature serves to create just the right environment to help you drift off, so you can forever say goodbye to your Alexa 'sleep routine'.
Finally, the anti-snoring feature allows the bed to adjust your position and elevate your head to avoid disturbing the sleep of others.
What I liked
It offers dimmable lighting and music.
It features a fragrance diffuser.
It offers a fall-asleep feature.
What I didn't like
With the features and construction offered, one can expect a high price which can be a turn-off for some buyers.
Adjustable Bed Frames
Smart beds with all the usual bells and whistles can seem a little intimidating for buyers looking to try out the device for the first time. So, if you're looking for the halfway mark between a standard bed and a smart bed, you'll want to pay attention to this next section. Beds listed under this heading don't have as many features as smart beds, but they offer quite a lot compared to regular ones.
Adjustable bed frame with neck and lumbar support
The Adjustable Split Bed Base by Sven & Son offers great features to improve your sleeping position
Top Features
Both sections of the bed are adjustable.
A remote control is included.
Comes with a 10-year warranty.
Physical Features
The 14-inch base is available in varying degrees of firmness and provides the comfort of 6 separate layers for maximum support. There's also a slip-resistant bottom to keep the mattress in place and an organic cotton and charcoal cover to keep things hygienic.
Both bed sections can tilt 65 and 45 degrees respectively at the head and foot placements for ideal comfort and positioning.
Remote Controls
While there's no internet connectivity or app control, the Sven & Son bed does include a wireless remote to adjust the bed in any way you choose. The mattress also features a 10-year warranty.
Budget option for adjustable bed frames
The iDealBed 3i Custom Adjustable Bed Base offers users the benefit of a lightweight aerodynamic tubular steel frame that's durable and unique from other similar bed frames and is compatible with all types of mattresses.
Top Features
Lightweight and durable tubular steel bed frame.
Backlit wireless remote control.
Head and foot articulation up to 70 and 42 degrees.
Remote Control
The iDealBed 3i also includes a backlit wireless remote control with eight buttons to control the bed's movements, two comfort positions (flat and zero gravity), and two programmable memory positions, so that you can achieve comfort with the click of a single button.
This adjustable bed features micro-bead grip fabric to keep the mattress secure at all points and micro-suede upholstery in grey to match all types of interiors.
The Verdict
We're reached the end of our Smart Beds Guide, and hope our comprehensive list of product reviews has helped you choose your next bed! Happy sleeping!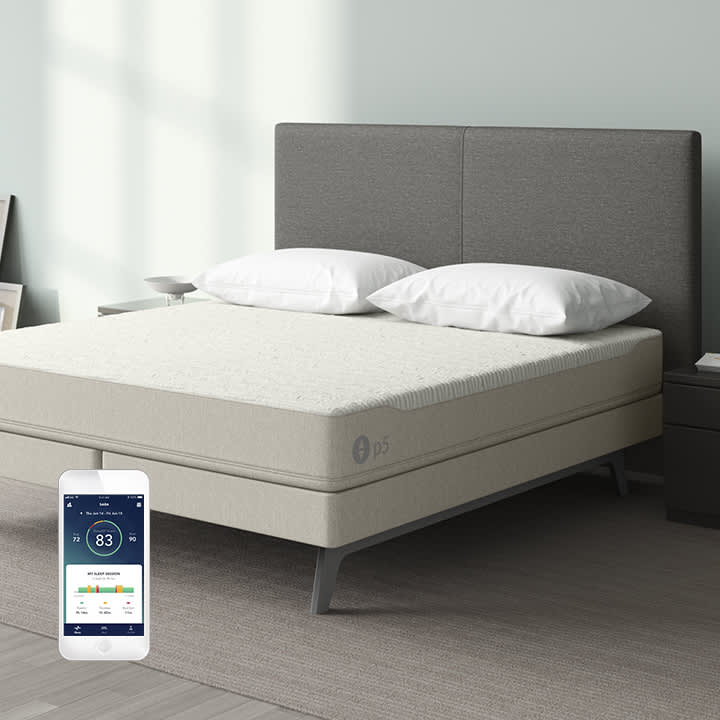 SleepIQ score helps improve your sleep quality
The Sleep Number 360 Smart Bed delivers "life-changing" sleep through a series of technologies.
Top Features
Dual adjustability for comfort and firmness settings
Responds to your movements with Responsive Air tech
Smart fabric and temperature balancing
Sources