With one of the best smart fireplaces, you can turn on and off your electric heater without moving an inch! Voice control is standard with Alexa or Google Assistant and they come in all shapes and sizes. You can also remote control your fireplace via a smartphone app – the ultimate convenience!
New Smart Electric Fireplaces
Retrofit an Existing Electric Fireplace with Smart Controls
Top Pick
Smart control your existing fireplace!
Best Smart Electric Fireplaces
A wall-mounted recessed fireplace
Designed with a minimal frame, the Sideline Elite Smart Electric Fireplace leaves sufficient volume for flame burning.
Top Features
Dual heat settings
6 flame color options with 10 media bed color options
5 flame and media bed light intensity settings
Built with a smaller frame size, the Sideline Elite 50 Smart Fireplace has a large flame area allowing you to enjoy better flame viewing and heating. To complement this design, the smart fireplace comes with two heat settings.
You can opt for the low setting (at about 68 degrees Fahrenheit at 750W) or the high setting (at about 88 degrees Fahrenheit at 1500W). Alternatively, you can opt to leave the fireplace on constant functioning without any heating settings.
Size
With a firebox dimension of about 48.75 inches wide by 18.25 inches high by 6 inches deep, the smart fireplace can heat a room that measures up to 400 square feet. You will be impressed with the fireplace's realistic flames.
You will be even more impressed with its clean-running without worry about any fuel mess or smell. To give you even more cozying up options, the fireplace comes with a selection of flame colors.
Color Modes
As mentioned above, the flame itself mimics a traditional fireplace's flame, offering an authentic look to emulate real fire from burning wood. However, it doesn't end there. The fireplace features up to 60 different color combinations to choose from based on your mood.
What I liked
The fireplace gives you the option to plug or hardwire it.
It offers two heat settings so you can set the ideal interior temperature.
Different color options and light intensities to create the ambiance you want
Built-in automatic shut off timer can be set for up to 8 hours
What I didn't like
Some customers complained it can be noisy at times
Tech Specs
| | |
| --- | --- |
| Fireplace size: | 49.75 "W x 19.25"H x 5.5" L |
| Firebox size: | 48.4375" Wx18.25" Hx5.125" L |
| Fire size: | 46" Wx14.375"H |
| Frame color: | Black |
| Room coverage: | 400 sq.ft |
| Wattage: | 1500W |
| BTU: | 5000BTU |
Crisp white with faux stone
Integrating a voice control and smart fireplace control, the Seneca fireplace allows you to control it from the comfort of your couch. The smart fireplace is built to easily fit underneath your media shelf to add aesthetics to your living room.
Top Features
Flame up/down feature
Running timer
Runs with or without heater
In fact, it features a clean transitional style with a farmhouse touch, crisp white finish, and rustic white faux stone. Whilst the design is elegant and striking, the fireplace is still easy to care for. It works with any standard wall outlet with no additional electrical equipment. Cleaning it, on the other hand, simply requires a soft, dry cloth.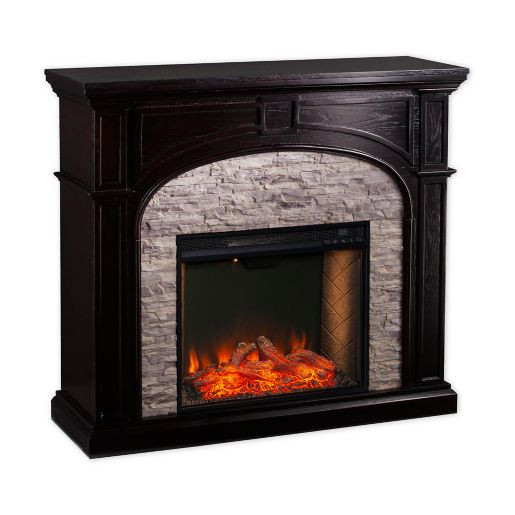 Rustic inspired smart fireplace
The Tanaya Fireplace features a rustic-inspired, yet, clean linear woodwork for an eye-catching look. Surrounding the fireplace is an elegant faux stone whilst underneath the top frame are long life, energy-efficient LED bulbs. To guarantee safety inside your home, the smart fireplace comes with a child safety lock and a cool-to-touch glass.
Top Features
62-82 degree Fahrenheit temperature rating
Smart fireplace remote with thermostat, timer, log, and flame control
Optional down light illumination
The Tanaya comes with a smart fireplace remote that allows you to separately adjust the thermostat, timer, log, and flames. If you don't want to use the remote control, you can opt for the voice control-enabled technology. Additionally, the heater has an optional down light illumination and allows you to run it without heating.
Classic woodwork and stone smart fireplace
The Delphine Smart Fireplace features a classic woodwork design with a sleek marble surround for a clean and modern look in your living space. The fireplace is designed with a firebox that integrates realistic faux fire logs and flickering space to mimic a traditional wood fireplace.
Top Features
Classic wood and marble finish
Lithium button cell operation
Realistic faux fire logs and flickering flames
To make it easy to control the fireplace, it is compatible with Alexa's voice-enabled technology. To allow you to keep enjoying the view and heat even when there is no power, the fireplace can be battery-operated with a single lithium button cell.
Minimalist finish
Integrating a voice-enabled Alexa technology, the Lirrington Smart LED Fireplace allows you to control it from anywhere in the room so you can focus on other tasks. The fireplace is capacitated with a heating power of up to 400 BTUs and covers an area of up to 400 square feet.
Top Features
Automatic shut off feature
LED flame design
Dual heat settings
Once assembled, you can plug the fireplace in any standard AC outlet without requiring any other electrical equipment. Whilst the fireplace emits heat, its combination of MDF, poplar, resin, metal, and glass construction still gives it a cool-to-touch exterior.
A decorative woodwork fireplace with stacked faux stone surround
The Dakesbury Smart Fireplace features decorative woodwork on the mantel and a stacked faux stone surround to give a traditional and classic fireplace design, integrating long-life and energy-efficient LED bulbs. The fireplace emits realistic flames.
Top Features
Long-life and energy-efficient LED bulbs
Functions with no heater all year round
Fits standard wall outlets
It's 50 inches wide, 14.5 inches deep, and 40.25 inches high. This allows the fireplace to heat a room that measures up to 400 square feet. The fireplace's voice-enabled Alexa technology allows you to control several functions. These include power on and off, heat up and down, flame up and down, and timer.
Using the Thierry smart fireplace, you can finally enjoy the environment you want in your living space or home office. The smart fireplace features a temperature rating between 62 and 82 degrees Fahrenheit with 4-degree intervals.
Top Features
62 to 82 degrees Fahrenheit temperature capacity
Comes with side bookcase storage shelves
Low profile and wide scale design
On either side, the fireplace features a bookcase storage shelving to store your books and other media. Its flickering LED lights and glowing faux fire logs in the firebox offer a realistic finish. The fireplace's low profile and wide scale also make it perfect for positioning it underneath your wall-mounted TV.
Retrofit an Existing Electric Fireplace with Smart Controls
Smart control your existing fireplace!
Using the Bond controller, you can easily adjust your ceiling fans, fireplace, and somfy shades from anywhere you are using your smart device in just seconds. The controller's innovative design allows you to control more than one device simultaneously—you can control up to 30 ceiling fans!
Top Features
2,500 square feet RF and IR signals
Controls up to 30 devices simultaneously
No installation required
Furthermore, the controller records and transmits radio and IR frequencies, covering an area of up to 2,500 square feet. The best part about the controller is that it doesn't require any installation. All you have to do is plug in the device, download the Bond app to your device, point your remote control towards the control, and start controlling your appliance.
Best Smart Fireplace Features
New vs Retrofit
Generally, all smart fireplaces come as new. However, this doesn't limit you if you want to add a smart element to your home's fireplace. If you are on a budget, you don't have to invest in a completely new fireplace. Depending on the design you have, you can opt for retrofitting. For retrofitting, all you need to invest in is a smart switch (electric), Smart IR remote, or smart millivolt thermostat (gas).
Recessed or Standalone
Smart fireplaces come in two designs. You can opt for a standalone fireplace that you can simply plug into your standard outlet or use a battery instead. A recessed fireplace, on the other hand, is a built-in one. In this case, you have to first create a niche on the wall and then insert the fireplace into it.
Fireplace or Cabinet with Storage
Different fireplaces come with different designs along with their standalone or recessed build. For example, the Thierry Bookcase Smart Fireplace is designed with side media and bookshelves for extra storage. Other recessed fireplaces can be inserted within a cabinet.
Style & Options
The best smart fireplaces come in different styles and options to suit your needs. They differ in mounting styles, power options, and other style designs based on your needs. Some of the first style options you will notice include traditional, contemporary, and modern style fireplaces. Other design styles include marble, stainless steel, or wood fireplaces.
Heat Output
Typically, smart electric fireplaces have a moderate sizing and heat output capacity. In general, you can find a fireplace with a heat and wattage output of about 500-1,800 W as well as 400 to 5,000 BTUs. With this heat output, a smart fireplace can heat a room with measures up to 400 square feet.
Installation & Power
Most smart fireplaces have a simple installation that can be done by following an included manual. As mentioned above, some may be recessed whilst others are standalone.
Depending on the size, some need a two-person whilst others need a one-person installation. In terms of the power supply, most smart fireplaces don't need any special connections as they can be battery-powered or simply plugged into a standard outlet.
Voice Control Options
Smart fireplaces integrate voice-enabled technology to allow you to control them from anywhere in the room. Some of the voice technologies include Amazon's Alexa and Google Home. Depending on the design of the fireplace, you can control the heating, power, lighting intensity, and even the timer.
The Verdict
This smart fireplace review above offers a selection of some of the best options around. We hope it helps you find the fireplace design that works best for your home—whether you have a small living space or want to add storage and style!
A wall-mounted recessed fireplace
Designed with a minimal frame, the Sideline Elite Smart Electric Fireplace leaves sufficient volume for flame burning.
Top Features
Dual heat settings
6 flame color options with 10 media bed color options
5 flame and media bed light intensity settings
Sources