It's impossible to figure out which appliances are hogging energy just by reading your energy bill. Enter the whole home energy monitor; a superhero to help you understand your home energy usage. Follow our guide to learn more about the best smart home energy monitor!
Energy monitors really pay for themselves. They empower home owners with real-time data and insights on how to reduce their energy usage and save money. 
When it comes to optimizing your energy usage and reducing costs, choosing the best smart home energy monitor is essential for tracking and managing your consumption efficiently.
With an x-ray view on how appliances are using energy, you can make informed decisions on reducing the usage of power-hungry devices. In some cases changing appliances or heaters with more energy-efficient choices is the best approach.
A best smart home energy monitor can also prevent costly repairs by sending updates when critical systems, such as a sump pump, stop running.
As our homes become more connected an energy monitor is a must-have device to keep track of your home energy.
As part of the research for this article, we purchased a leading energy monitor. We installed it and wandered around the house turning things on and off to understand where savings could be made! It was an eye-opening experience and really makes you think when you jump into your 9kW power shower!
Reducing energy consumption has a massive impact on our environment, particularly with the growth of renewables such as wind and solar.
Below we break down the best smart home energy monitor on the market in 2023.
Great energy signature recognition
The Sense energy monitor is one of the smartest devices on the market!
Top Features
Installed in your home energy panel via two clamp-on sensor
Listens to and records the unique energy signals passing through the panel
Machine learning system instantly identifies which appliances are drawing energy
Unlike other energy monitor apps, the Sense app crunches your energy usage data to reveal trends and insights. As a result, this helps you to reduce usage and save money! The best smart home energy monitor provides real-time data and insights, allowing you to make informed decisions to minimize your energy bills and reduce your environmental footprint.
The app also allows you to set goals and budgets for energy usage. It can deliver updates to your device on progress towards the goal.
In addition, the device can instantly recognize devices based on the unique energy signature. Therefore you can create custom updates when certain devices are enabled; such as when the garage door opens or the sump pump turns on.
It is also easy to monitor solar energy generation and usage via add-on sensors that can be installed.
What I liked
Amazing tech to detect appliances based on their energy signal and trigger updates when in use
Quality smartphone app with great features and past usage
The devices is fully certified to be installed within your home's energy panel
What I didn't like
Device install must be completed by an electrician
Auto device detection is not 100% and takes some time to work
A little more costly than others
Notes
To interact with the cloud servers, a Wifi signal is needed at your energy panel.
Works for split-phase 120/240V panels and can also work with less typical layouts or boards.
Accurate and reliable tracking
The Emporia Vue smart home energy monitor is a cost-effective way to keep track of energy activity in your house.
Top Features
Snapshot of activity from each clamp-on sensor is captured every second
Expansion module provides 8 add-on sensors to track separate circuits
Can also monitor Solar metering
While DIY instructions are included, the Emporia device usually requires a professional install by an electrician. This is down to the being directly installed and powered in your panel.
A snapshot of activity from each clamp-on sensor is captured every second. From there, it is sent via the emporia hub to the cloud.
Where the Sense monitor instantly detects appliances, Emporia's expansion module provides 8 add-on sensors to track separate circuits. It can also monitor Solar metering.
Real-time and historic energy usage data is displayed through the Emporia IOS and Android apps. They provide insights on both the main power feeds along with separate circuits powering appliances.
What I liked
A cheaper option to the Sense energy monitor
Up to 8 sensors provide lots of room for granular monitoring
Provides actionable insights
What I didn't like
Professional installation usually required
Smart Home Integrations
When it comes to instant alerts and effective smart energy monitoring, the Wiser Energy Smart Home Monitor stands out from the crowd.
Top Features
Detects appliances based on their energy signal and signature
Efficiently captures and analyzes energy consumption signals
Instant notifications assist you to save energy effectively
Manufactured by Schneider Electric, the Wiser Energy Monitor provides useful insights that will not only help you visualize the real-time energy consumption but also the estimated bill you would receive at the end of the month.
Once installed into your home energy panel, it starts monitoring the energy consumption within just a couple of seconds. The smartphone app connects with the system instantly. Wiser is compatible with Phillips Hue, Wemo Insight, and Kasa Smart Plugs as well.
Installation
To install, turn off the power, remove the panel cover, and place the Wiser in an appropriate place in the box.
Install the antenna and then connect the power cable and the antenna to the device. Clamp sensors around service mains, and connect the power wires from a 2-pole circuit breaker to the smart monitor. Install the Sense App, connect it to your WiFi connection, and create and configure your account. You are done!
How it works
Similar to Sense, Energy Monitor the Wiser Energy Monitor takes voltage and current measurements through just two clamp-on sensors for over a million times per second. It evaluates the electrical signals of each device.
It finds most of the analytical data of common devices within the first week of installation. Since it uses Machine Learning algorithms, many devices can take time to detect due to the evaluation of their contextual data. Overall, it shows useful insights and also complies with many quality standards.
Software
The Square D edition of the Sense smartphone app is used to monitor the Wiser Smart Energy Monitor system. It is an easy to use app with almost all the essential features to monitor and evaluate which devices are making problems for you in your electricity bill.
Its 24/7 availability, instant notifications support, and customization makes it one of the best energy monitoring apps. It also generates useful reports about the approximate electricity bill according to the consumption.
Security
Since the Wiser monitor uses end-to-end data encryption, it is one of the safest energy monitoring devices on the market. The connection between the app and smart device cannot be easily interrupted as it adheres to industry standard security protocols.
Tech Specs
| | |
| --- | --- |
| Electricity Phase | 3 Phase Compatible |
| Power | Hardwired |
| Compatibility | Bluetooth, Alexa, Google Home |
What I liked
Enhanced smartphone app with Alexa and Google Home Support
Enhanced smartphone app with Alexa and Google Home Support
Smart integrations with Phillips Hue, Wemo Insight and Kasa Smart Plugs
What I didn't like
A bit costly compared to other smart monitors
Should be installed by an electrician
DIY Install
The Efergy energy hub is a low-cost way to monitor your home energy usage.
Top Features
Can be DIY installed
To install, you position the two clamp-on sensors over the feeds from your panel.
Real-time and past energy usage data through the Efergy app
The best smart home energy monitor I've used offers real-time insights into our electricity usage, helping us significantly reduce our energy bills. The Efergy system can be DIY installed which is a major plus. Others require a professional install by an electrician.
To install, you position the two clamp-on sensors over the feeds from your panel. These clamps are connected to a battery-powered transmitter that sits within your panel. The transmitter interacts with a receiver hub connected by cable to your router which then transmits data to Efergy cloud.
Once set up, you can then access real-time and past energy usage data through the Efergy app. You can also set budgets and targets to meet. This is why we suggest it as one of the best smart home energy monitors.
What I liked
Transmitter signal has a range of 40 – 70m which is much longer than Wifi signal used by other devices
DIY install as transmitter only requires batteries
Cheaper device to purchase than others
What I didn't like
Less smart than other offerings in the market
App features and user experience is less impressive than other offerings
There are also Efergy models which contain displays for data which are portable around the home. After installing the best smart home energy monitor on the market, we were amazed to see how much power our old appliances consumed, prompting us to make more energy-efficient choices.
It is also easy to monitor separate circuits or solar panels by purchasing add-on clamp sensors.
Notes
Three-phase compatible with extra sensors
Suitable for several common panels
Wired and Wireless Options
There are several different Eyedro energy monitors options depending on the needs of home owners.
Top Features
2-4 clamp-on sensors
Monitor solar generation and usage along with HVAC and pool pump
Wired and wireless mesh options
A wired option is suitable for where a LAN and power connection is available close to the panel. A wireless mesh option acts as a transmitter and receiver. Finally a powered wireless sensor option speaks directly to the router.
Each option tracks energy usage through 2-4 clamp-on sensors and transmits that to the free MyEyedro cloud service.
Real-time and historic energy data is then displayed for home owners via web and mobile apps to review and recognize insights. Also, estimates of your next energy bill are included, supporting fixed, tiered or time-of-use rate schemes.
The device can also be used to monitor solar generation and usage along with HVAC and pool pump.
What I liked
Flexible options to install (wired, wireless hub or wireless sensor)
What I didn't like
The user interface of the web app is a little dated
Other monitors offer more sensors to track circuits
Data stays within local network
The Aeotec Gen5 has the largest range of all devices on the market, using Z-Wave tech.
Top Features
Clamp-on sensors to be installed within your panel
Z-Wave gateway and network required
Greater privacy
In addition, it is the best choice for the smart home techie, with Z-Wave gateways. The list includes SmartThings, Indigo 7, Home Seer, Vera, Open Z-Wave and more.
Similar to other devices, the meter comes with clamp-on sensors to be installed within your panel. You will need an electrician as the monitor needs to be powered directly from the panel.
You will need to create a Z-Wave gateway and network at home for the monitor to interact with. (Such as Vera Edge, Samsung SmartThings).
What I liked
Links in with the rest of your smart home
Greater privacy. Data stays in your control within the Z-Wave smart home control gateway and not uploaded to a companies cloud servers.
What I didn't like
Users will need to be tech-savvy to set up a Z-Wave network in their home and include this monitor
The device only monitors the mains feed and not separate circuits or appliances
Best Smart Home Energy Monitor
Great Solar Monitor
The Shelly Energy Monitor can be used to monitor the energy consumption of your entire house as it can be configured with 240A power sources
Top Features
Automatic shutdown when reaching a specified power limit
Weekly scheduling by time or sun position for Solar monitoring
Remote controlling through the smartphone app or web interface
Integrating the best smart home energy monitor into our home automation system has been a game-changer, allowing us to track and optimize our energy consumption with ease.
It consists of just two clamps and a small Shelly EM device which is installed into your home's electrical panel within just 10 minutes.
The app connected with the device shows real-time usage, friendly demand graphs, consumption history, and other valuable suggestions to help make your electricity bill more reasonable. It is connected to your home's WiFi system. It is directly powered by your electricity and has enough measures to protect your data.
Simple plug and play install
If you have a smart meter installed and would like to access it's data, then this Rainforest energy gaateway is worth a look.
Top Features
Zigbee RF communications
Great reporting
Permission from utility required
As utilities are installing more and more smart meters in homes, there is now a demand for more granular energy reporting.
Rainforest have created a gateway and energy monitoring unit which connects to your existing smart meter, over Zigbee. It can provide you access to the real time energy metrics within your meter and provide that data to your phone, web browser or monitoring unit.
It is worth noting that device only works with smart meters that come equipped with a Zigbee antenna and you also will need permission from your utility to access the information.
There is a simple plug and play installation so unlike a lot of the whole home energy monitors on this list, you will not need the services of an electrician.
With detailed reporting, you can access usage amounts per kilowatt hour and dollar amount, along with historical views of the data.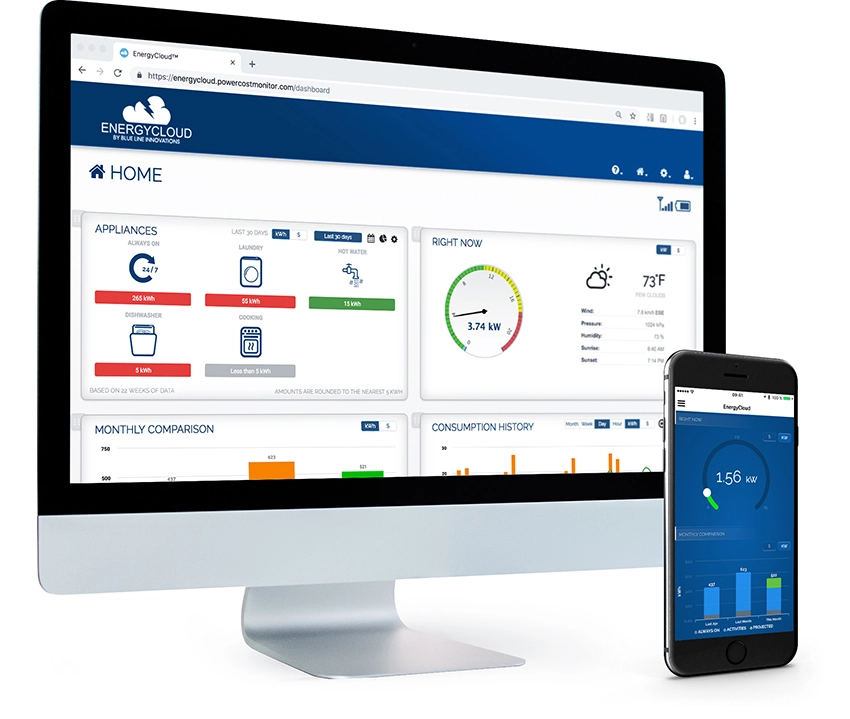 No wiring requried
The EnergyCloud Electricity Monitor consists of a Meter Sensor, CloudConnector, and EnergyCloud app.
Top Features
Real-time monitoring with customizable alerts
Up to 1 year of complete saved consumption history
Easy to use and graphics-rich monitoring software
The Meter Sensor monitors electricity usage by connecting to your electricity meter and sends raw data to the EnergyCloud app via the CloudConnector.
It takes the essential electricity readings in just 15 seconds and after evaluating the data, it displays useful insights on the software platform. It is compatible with Amazon Alexa and can store reports for up to 1 year. It's a secure and reliable option to consider.
The Energenie Mi Home Energy Monitoring device is an advanced smart monitoring system that can make a huge impact on your bills.
Top Features
High accuracy chip provides real-time energy consumption data
Robust iOS, Android and web-supported apps
Smart and quick installation procedures
Energenie Mi|Home Monitor consists of a clamp and the device itself. Installation is very straight forward; you need to connect the clamps to your electrical panel and then connect it to the Energenie device.
Within a minute, it will start capturing data and will show you insights through the app which is fully supportive of iOS, Android, and web interfaces. It measures everything with high accuracy and provides various useful energy consumption reports. Since it uses data encryption, it is a secure system.
Opensource Pick
The Open Energy Monitor is an open-hardware and smart energy monitoring system which requires just a simple clamp installation to start working.
Top Features
Monitor real-time consumption data and compare with historic data
A powerful and user-friendly emonCMS software support
A powerful and user-friendly emonCMS software support
The Open Energy Monitor is connected to an internet resource to provide software support as the software works on cloud services. Its compatibility with various solar systems makes it a sound choice.
The emonCMS is an easy to use software platform that lets you manage your electricity consumption and figure out what is costing you too much. It is a battery-powered solution making installation easy while also providing security and ease of use.
Another solar option
When it comes to smart energy monitoring with efficiency and accuracy, the Neurio Smart Home Energy Monitor stands out.
Top Features
Instant energy monitoring and sophisticated analytics
Latest Neurio Technology backed solar/clean energy monitoring
An enhanced and state-of-the-art software and smartphone app
There are just two clamps that are connected to the power source wires in your home's electrical panel. Then these clamps are connected to the Neurio hub which is integrated with their cloud services.
It uses artificial intelligence to analyze and evaluate the usage statistics. Every appliance connected to your home is just a tap away thanks to its easy to use web and mobile supported software. The hub is battery powered and the entire system is secure and reliable like never before due to its data encryption and other quality measures.
Smart Home Energy Monitor Features to Consider
Budgeting & Cost Tracking
A key feature of energy monitors is the way they convert raw data into meaningful info. The normal way of reading energy data is through kilowatt-hours (kWh) and hard money!
Utility companies will usually charge you based on the kilowatt-hours you have used every month or two months. By reviewing your utility bill, you can determine how many kilowatt-hours you are consuming per day. From there you can aim to reduce your energy usage to reduce this average.
The more common way of tracking energy usage is through its money value. Utility companies have set tariff rates for kWh usage. Most products on the market allow you to set these rates (and currency) within the mobile or web app. This means you can convert the above daily kWh usage into real money.
Some products allow setting multiple tariffs. That way you can track your energy costs before you ever get the bill at the door!
Also, some offerings allow you to set budgets and provide updates when you are close to or surpassing the budget.
Separate Device or Circuit Monitoring
A big decision to make is what do you want to track. Some products in the market are more basic with simple monitoring of energy flowing into and out of the house.
Others offer the means to monitor separate circuits from the main consumer unit.
This could correspond to
Specific devices (such as a power shower, immersion, sump pump)
Solar panels (creation and usage)
Lightning circuits
Mains ring circuits
At the top end of the spectrum is device monitoring by reading energy signatures flowing throw the main pipe.
At the very least, the product needs to be smart, in that you need real-time tracking from your smartphone.
Solar Power Monitoring
If you have invested in solar panels, you should be able to report on the return on that investment.
Depending on your location and setup, you may want to track
The energy you are creating
Energy you are selling back to the grid
Energy you are consuming
Also, the product should have a revenue and cost metric so you can see the value of your investment.
In this instance, you will want a product that can track single circuits within your consumer unit.
Compatibility
Before splashing out on an energy monitor, it's best to do some homework. You want to make sure the product you buy is going to work for your setup.
You need to determine if your system is Single Phase, Dual/Split Phase or Three Phase.
Products that support more than single-phase usually require the purchase of add-on clamps to track energy flow.
It's best to ensure there is enough space within your panel for clamp sensors around the feed cables. Some monitor's clamps are bigger than others and this might be a key difference for some.
Also, we recommend taking a picture of your consumer unit. You can then compare against the product instructions to ensure it's a compatible board.
Energy Monitor Install
All products are recommended to be installed by an electrician. However some can be DIY installed, based on the company's manual.
There are two types of energy monitors;
The first contains both a transmitter and a receiver. The transmitter resides within the consumer unit and is powered by batteries. The receiver sits next to your router and is plugged into a standard socket. Some companies say these can be DIY installed as the clamps are simply clipped on to wires within the unit.
The second is a single unit, housed within your panel and interacts over WiFi. For power, this is usually hardwired into the consumer unit itself, which requires the services of an electrician. Again, clamps clip on to specific cables within the unit.
While some companies say that monitors can be DIY installed, there is a risk of electric shock causing injury or death when you start poking around within the panel. We always recommend using the services of an electrician for your safety.
Mobile & Web Apps for Energy Monitors
The quality of apps is what separates the best energy monitors from the rest. Outside of the Sense monitor, the hardware behind the rest is similar, making the app experience the key difference.
At a basic level, you need to choose a product that has a native app compatible with your device. Some monitors only offer web apps via their website. While this increases their compatibility across all smartphones it reduces the native user experience.
Tracking real-time usage across multiple circuits or devices is an important feature. This makes it easier to recognize energy hogs in your house. Graphing historic data in days, weeks and months allows you to gain insights from trends.
Visual budgeting and cost tracking are important along with updates when you are approaching the threshold per circuit.
Smart Home Integration
A challenge when expanding your smart home is to centralize control into a single interface. Also, it's great to connect your real-time energy data with other smart enabled devices. This challenge was the reason behind IFTTT. This is a web-based integration layer to allow multiple smart devices to interact with each other.
A lot of energy monitor products on the market require using their specific apps to access info. Some like Sense are compatible with IFTTT while others, like Aeotec, are controlled through a generic z-wave smart home gateway.
Should I buy a Smart Home Energy Monitor?
While everyone's circumstances are different, here are some of the considerations when making the decision to the best smart home energy monitor.
Save Money
The main benefit of having an energy monitor is to provide you info on usage. This means you can make informed decisions on how to reduce your energy usage. Why … to save money!
Over-active AC units; poorly timed hot water circulators, heaters, and thermostats; broken extractor fans; old lighting fixtures are just some of the devices if fixed, can result in serious savings in money per month.
Avoid Disaster
Monitoring energy usage for critical equipment (such as a basement sump pump) provide an important safety net. It ensures your home does not become flooded resulting in costly repairs.
Safety
Most energy monitors allow you to view real-time usage from anywhere in the world, via mobile apps. That way you can track activity in the home at all times. You can even make sure the oven or iron is not on while you are out of the house. Another security device for peace of mind.
Solar Panels
For those with solar panels, you can monitor energy production rates to maximize your investment.
Common Questions relating to a Smart Home Energy Monitor
How do I install an energy monitor?
Energy monitors are installed within the consumer unit or panel in a household. We recommend to have an electrician carry out the install.
The clamping sensors around the feed and or separate circuit cables track the flow of energy. The data is usually transmitted to the cloud where it is made available through a mobile or web app.
What appliances use the most energy in my house?
Cooling and heating appliances usually account for around 50% of all energy usage in the home. Air-con and electric heaters are energy hogs with small units using 1-3 KWs and larger units up to 10KWs!
Also, as they are left running for long periods of the day the costs just keep racking up. For instance, water heaters are another culprit consuming large amounts of energy to maintain water temperature.
Non-LED lighting can cost large sums per year and are well worth changing with more energy-efficient LED bulbs.
Washers and Dryers are next up, costing a decent amount per year due to heavy usage. Also, older households, still use less energy-efficient devices.
How can I track my daily energy usage?
By purchasing and installing an energy monitor, you will have real-time and aggregated energy usage data at your fingertips through easy to use mobile and web apps.
Different energy monitor products offer different features within their apps, however, most allow viewing usage on a day by day basis.
The Verdict
Great energy signature recognition
The Sense energy monitor is one of the smartest devices on the market!
Top Features
Installed in your home energy panel via two clamp-on sensor
Listens to and records the unique energy signals passing through the panel
Machine learning system instantly identifies which appliances are drawing energy