Searching online for GU24 smart bulbs will probably get you nowhere as there is just a lack of smart bulbs for this type in the market.
Don't despair; we provide four approaches to help you achieve all your smart lighting ambitions!
At SmartHomePerfected we always advise readers not to undertake any work they are not competent in performing and if in any doubt, it is best to seek the assistance of a professional.
1. Use a GU24 Adapter & Standard Smart Bulb
It's as simple as it sounds. The setup is meant to adapt the GU24 socket to a common socket which has more smart bulb options available.
You'll find this GU24 to E26-27 adapter from JackyLED works well and opens the door to more upgrade options. Get some peace of mind by installing it and forgetting about it, thanks to its quality build. It prevents flame hazards, even up to its maximum wattage of 150 W.
Top Features
Quality product and build, made with ABS plastic and metal
Casing is reinforced with PBT fireproof material
Available in packs of more for better savings, giving you more value for your money
This smart bulb from Philips is a great starting point for integrating smart lighting in your home. It's packed with the standard features, the bells and whistles, and more.
Top Features
The Philips Hue app opens you up to a lot of state-of-the-art features for the smart control of your space.
Wide range of color customizability (16 million) and dimming (50,000 shades of white), especially when using the app
Broad compatibility and integration with major smart home tech such as Apple HomeKit, Amazon Alexa, and Google Assistant – this helps make sure it blends well with your current smart home setup.
Maximize its automation features for your home; customize it to practically all the colors you need, remotely or using your voice via the compatible voice assistants.
This is a great smart bulb. It's an Amazon's Choice product that features dimmability, app availability, voice assistants compatibility, and that's just some of its features. You can't go wrong with this at its affordable price point. The ratings for this smart bulb by Kasa are warranted. It's great value for money and there's a 2-year warranty for good measure too.
Top Features
Compatible with Amazon Alexa and Google Home ecosystems, allowing you remote and voice control over the light, and more smart features, without the need for a smart hub
Connect the Kasa Smart app to your network and access a great set of features—access your light from anywhere, dim it remotely, create schedules and scenes, and more.
Great value for your money at the price point, especially with the feature set it brings
2. Replace the Switch With a Smart Switch
Another good option is to upgrade your regular switch to a smart one. This gives you smart features similar to what a smart bulb would have (voice, wireless, app, etc.). But one obvious advantage is that you have a physical switch to turn your light on and off when you need it.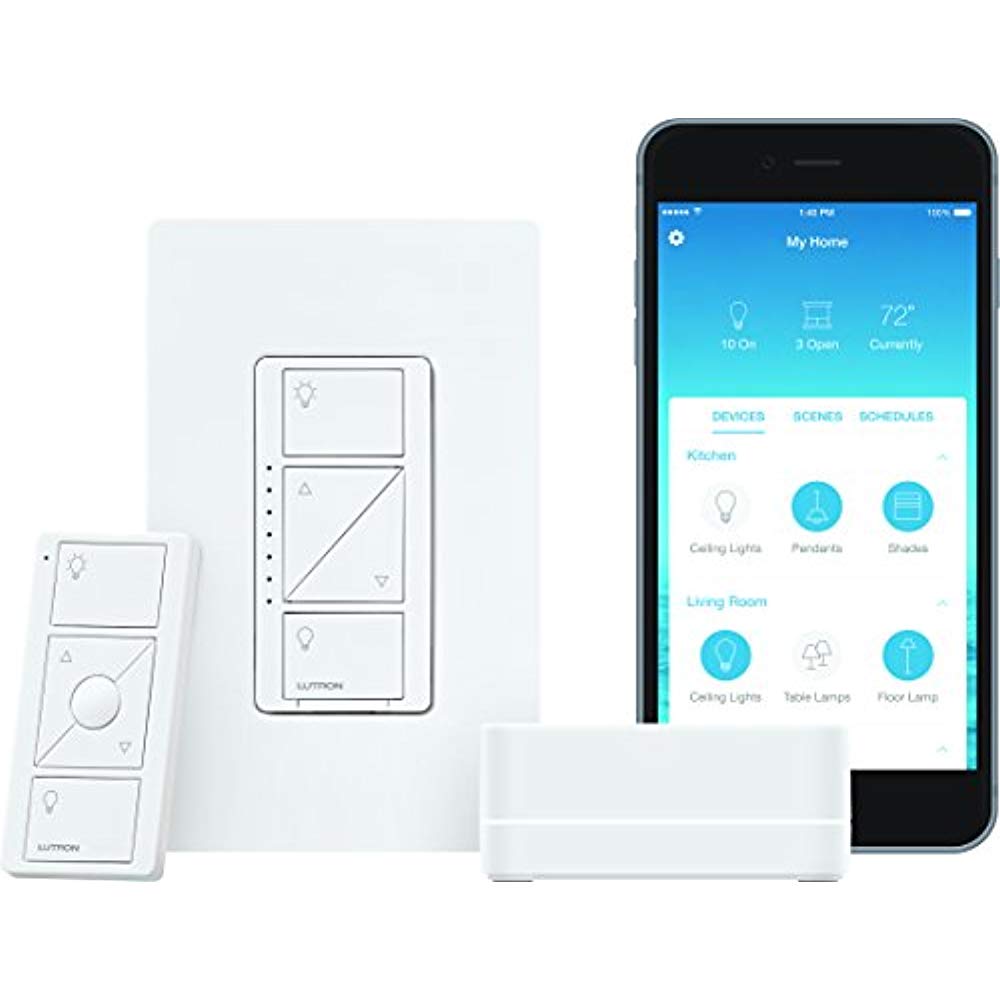 An excellent choice—great investment for smart lighting
This smart dimmer switch package by Lutron is a well-rated bundle for upgrading your lights, while also giving you a good base for further upgrades with the smart hub.
Top Features
This four-in-one package of the dimmer switch, smart bridge, remote control, and coordinating wall plate brings a lot of possibilities and value.
Customers like how easy it is to install even with multiple devices.
Lutron's Clear Connect technology for wireless functionality away from your Wi-Fi—less traffic on your network and continues to work even when the Wi-Fi goes down
This 4-in-1 bundle from Lutron makes a great case for building your home smart lighting on. It's reported to be reliable, rarely malfunctions or disconnects, and has a good range.
This package also has a great value considering the individual costs of each device.
The product was designed to be easy to set up in different situations. A neutral wire is not required by the dimmer switch, making it adaptable to a lot of homes' wiring systems.
What I liked
The smart bridge is a nice addition to let you add more Lutron devices in one hub (wide range of compatibility, too), and connect them to other smart apps such as Amazon Alexa and Google Assistant.
Physical remote control—provides considerable range; can even use it while in the car arriving home
The easy installation and connection are hugely appreciated by customers.
Compatibility with Amazon Alexa, Google Assistant, and Apple Siri for more smart, remote, and voice control as well as automation features
The Amazon Choice title boasts its high rating (4.8), great price, and shipping availability
What I didn't like
Costly compared to simpler setups and products. That said, we recommend it for the great value vs price.
The smart bridge is required for most of its best features.
Ethernet (wired LAN) connection is required by the smart bridge.
The app functionality can feel limited in some of the more basic customizations
There are complaints about the lack of support to easily store/restore settings.
This smart switch from Leviton is positioned at a good price point for the features it offers. Installation is easy and simple. here's no need for a smart hub to have remote control and scheduling, and it connects to Alexa and Google Assistant.
Top Features
Can function wirelessly without the need for a smart hub or bridge, functioning as its own bridge for your smart light and device for remote control
Compatible with Google and Amazon's voice assistants and hubs for more automation and control
With no hub required, overall, it's a well-priced smart switch option that does a lot for you (also more affordable compared to competitors, especially those that require hubs to access the rest of the features).
It can be connected using Wi-Fi, Bluetooth, HomeKit, and even Z-Wave—whichever you want to utilize.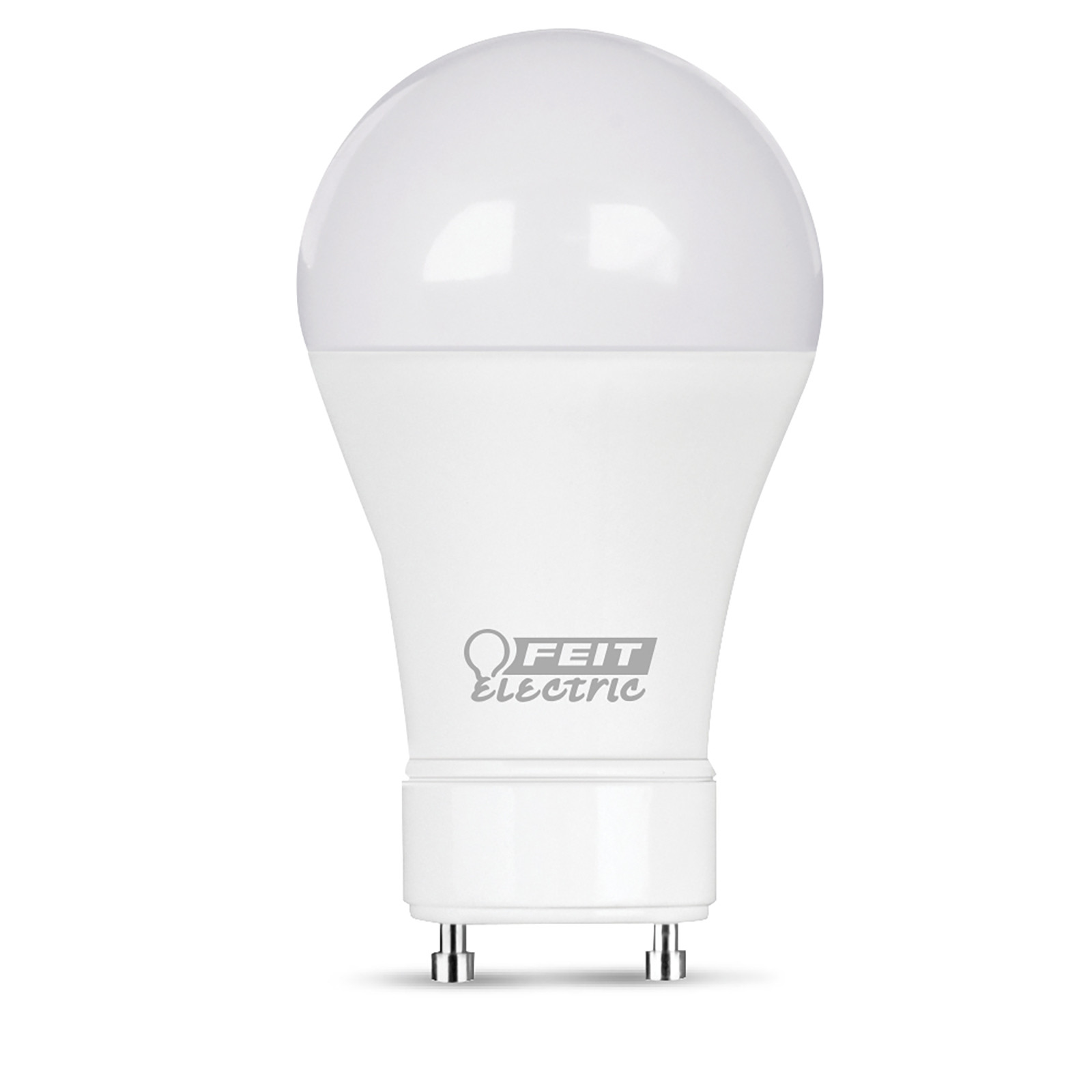 This is a LED bulb that works well for your smart switch. This dimmable bulb by Feit is dependable, evaluated for Energy Star ratings, RoHS-compliant, and mercury-free.
Top Features
Energy savings of a LED bulb while producing the same brightness as a 60-Watt incandescent bulb, using about 85% less energy than its incandescent equivalent
Produces a bright, warm 800 Lumens of light at a 3000 K color temperature; it looks warm but doesn't produce much heat due to LED technology.
25,000 hours or a 22.8-year lifespan is expected.
The 3000 K warm daylight (with high color accuracy of 90 CRI) bulb is produced with only 8.8 W of power. The warm light also promotes a healthier nighttime environment conducive to sleep.
3. Hardwire a Module and Control it via a Smart Hub
We don't mean to make it sound intimidating. It's simple: you convert your standard light switch to a smart one by wiring a smart controller behind the plate. It's like a robot brain for your switch, making it far better. You then connect it to a smart hub to get access to the smart features you need.
Install the Aeotec Nano Switch controller behind your standard switch and you now have a smart switch with the smart and wireless capabilities of Z-Wave. It doesn't exceed 2" on any of the sides, which makes it a wonder to be able to work invisibly to the full capabilities of Z-Wave.
Top Features
Bring smart features and automation to your outlet or switch—compatible universally, no matter your wiring setup.
The Nano title stands for the device's miniature design which enables you to fit and hide it behind the installation.
Allows for wireless updates, keeping it significantly competitive to keep up with future generations of Z-Wave
It's not just for light switches, but power sockets too, bringing accurate power metering functionality.
This light dimmer switch Z-Wave controller by Aeotec is a well-polished device in its 3rd generation. It doesn't just upgrade your switch, but it's also snappy, makes precise and smooth dimming, and gives you power metering.
Top Features
Convert your regular dimmer switch to a smart one by installing this controller to it. You'll be able to control and automate it remotely or by voice using Z-Wave technology.
Electrical features protect and help with your lighting setup, providing real-time power consumption data and surge protection.
Can be kept to date with wireless updates, so it can still be capable and reliable after a good while
It's also easy to install, with the neutral wire being optional, and it's compatible with many types of wiring systems.
Using the Hubitat Elevation Hub is made easier thanks to a good amount of resources such as the website, a busy community, and tech support.
Top Features
Advanced scheduling, integration, and automation processes.
Has the latest Z-Wave technology with better security, which is largely enhanced by local storage of your smart home information
Compatible with a good number of smart systems such as Amazon, Google, and Zigbee
Unlike other hubs with limited rules, the Hubitat Elevation allows for more complex rules and automation. To put it simply, add more "this" to your "if this, then that" rules.
4. Replace the GU24 Lamp Fitting With an E26
This might be something you'd want to leave up to an electricianYou'll have to turn off the power, detach the fitting, and reconnect the wires to the new installation.
An E26 socket brings you more options, and if you can do this on your own, it'll be a great option to try.
Things to Consider When Looking for a GU24 Smart Bulb
Space Constraints
Make sure to check beforehand so you don't spend your money for something that doesn't suit you. An adapter will add bulk to your current setup, so check the dimensions online beforehand.
Measure the available space around your socket, while also expecting a bit of clearance to adjust for error.
Experience
Do you have experience with electrical and wiring work?
An electrician is recommended for most of the electrical work above. Installing micro controllers and setting up a smart home hub requires advanced know-how.
Leaving the work to professionals could save you trouble and effort, possibly money, too.
Reduce Costs by Investing in LED Bulbs
Improvements in LED technology have given it a sizeable lead in advantages compared to other lighting options. They have become the choice for longevity, durability, and quality.
Some LED light bulbs are costlier than other options, but they pay for themselves in the long run. An incandescent bulb uses about 7 times more than a LED one for the same brightness.
GU24 Bulb Color
If you've considered multicolor features for your space, then consider options 1 and 4 since you have more control over your bulb choices.
We've already mentioned the lack of smart bulbs for the GU24 fitting. You might prefer color-changing GU24 bulbs, but they don't compare to the features and convenience of their smart counterparts.
Common Questions About GU24 Smart Bulbs
Is there a GU24 Philips Hue Smart Bulb?
Unfortunately, not even a major lighting brand like Philips Hue has a smart GU24 bulb.

The most common bulb sockets they have available are Edison screw sockets (E types), such as E14 and E27. They also have a number of E26 & G10 bulbs.


Conclusion
Hopefully the options above helped you get closer to a solution .
If you know other alternatives or approaches to try in place of GU24 smart bulbs, do let us know in the comments. You might make someone's day, and we'd love to hear from you.
Sources