If your old Monitronics alarm panel is on its last legs, you've got a couple of options to choose from, to secure your property. Read on!
About Monitronics (Moni Security/Brinks Home)
Monitronics (now Brinks Home) is an established home security company that offers customers security devices, 24/7 monitoring, as well as professional installation services. They were previously known as Monitronics, and then Moni Security for a period. In 2018, they signed a licensing contract with Brinks Home Security and rebranded their range of Moni Smart Home and Livewatch devices.
In their 20 years of operation, they have become the second largest security provider for residential properties.
Your Options
If you are out of contract with Monitronics / Moni / Brinks Home and your system has developed an issue, you have three main options.
You can enter into a new contract (now with Brinks Home) who support your existing equipment (or may try and replace it as part of a deal).
You can switch to another home security provider.
Or, you can try and fix the issue yourself.
To help you weigh up the options, we compare the main players in the market, to give you a better view of the pro's and con's of each. We also answer some frequently asked questions on maintaining an existing system below.
---
Low monthly subscription package of $29.99 for professional monitoring services.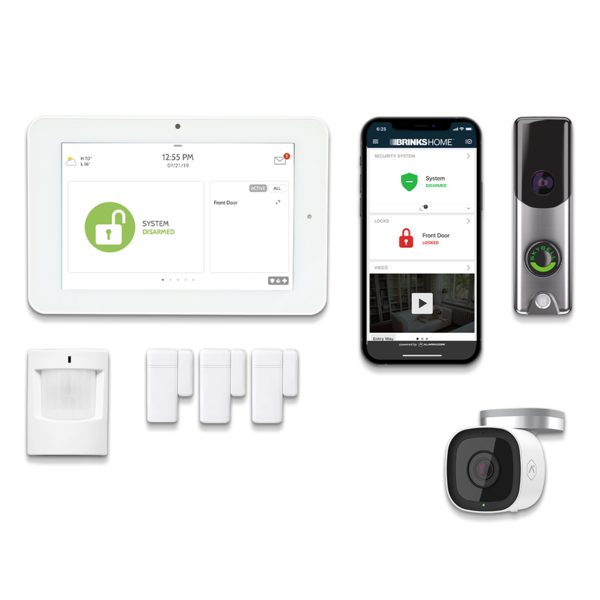 Brinks Home Security is an affordable home security solution. Its least expensive equipment package comes at only $199, which is much lower than what other security providers are offering.
You can rely on Brinks Home Security for 24/7 assistance, as well as technical installation support. It comes with a dedicated smartphone app that allows the customers to activate or deactivate the security system.
Flexible month-to-month arrangements
vs
The Frontpoint Security System is another popular security service for both residential and commercial properties. Unlike some other security providers, they have quite a wide range of supported devices.
If you are not looking for a long contract, then you can benefit from Frontpoint's month-to-month plans.
Pros
2-year warranty
Flexible setup options
24/7 monitoring
Cons
Lower warranty coverage than competitors
Minimum contract length of 36 months
No money-back guarantee
Pros
Comes with strong monitoring options
3-year equipment warranty
Dedicated smartphone app
Cons
Does not offer self-monitoring using Nest
No on-site technical support during installation
---
Offers the lowest monitoring price to all customers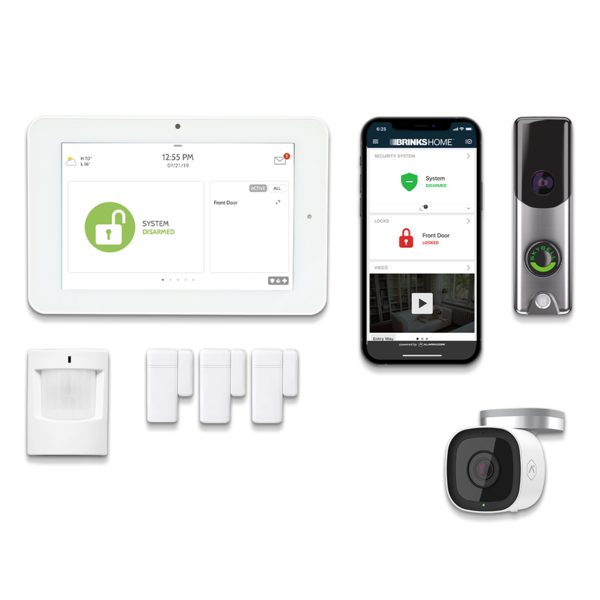 Brinks Home Security comes with a 2-year equipment warranty and flexible installation option. When compared with other security providers, it has a low starting price of only $29 per month.
As far as comparability is concerned, Brinks Home has integrations for both smart thermostats and smart locks. It currently offers 4 different main packages—the Smart Security Essentials package, the Nest Secure Package, the Smart Security Ultimate, and Smart Security Complete.
Comes with professional installation
vs
Vivint Home Security comes at a low monthly subscription plan of only $29.99. Furthermore, if you purchase the equipment upfront, you will get the month-to-month contract option. For durability, it has a backup battery for the Sky Control Panel.
Pros
Smart Security Essential Package coming at $199
Installment payment options ranging from 42–60 months
30-day money-back guarantee
Cons
0% APR on Green Sky Credit Card for only 36 months
No customization option available
Trial period of only 3 days
Pros
Flexible package with options for home environment monitoring equipment, sensors, and security cameras
Supports payment via FlexPay with 0% APR for 60 months
Compatible with smart garage door controllers, smart lamp modules, as well as smart thermostats
Cons
Requires a 42–60-month contract
---
Compatible with both Google Home and Amazon Alexa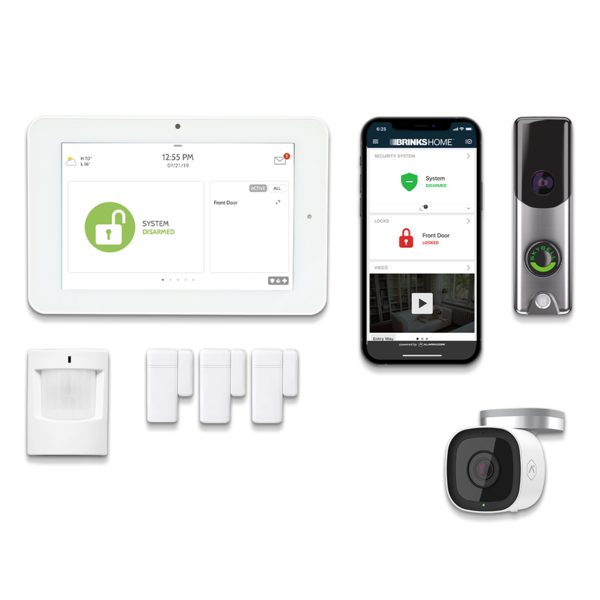 Brinks Home Security comes fully compatible with all lines of Google Nest products. This means you can connect it with smart gadgets in your home such as your smart locks, smart thermostats, and many more using Nest Hub.
Thanks to over 33 years of experience, Brinks Home Security is a reliable and credible name when it comes to solid home security. To make things easier, it is also compatible with some Z-Wave devices.
Affordable home security starting at only $14.99
vs
SimpliSafe Home Security has both cellular monitoring and free self-monitoring features. People love them because instead of a long contract, they offer month-to-month plans as well.
Furthermore, if you do not like their services, you can claim a refund within 60 days of your purchase.
Pros
DIY and Professional Installation
A+ BBB Rating
Comes with a robust 24/7 monitoring feature
Cons
Basic equipment package starting at $199
Offers only a 30-day trial period
Pros
Can monitor flood, freezing, and flooding
Comes with the option for a smoke detector, water sensor, and temperature sensor add-ons
No contract is required for its monitoring services
Cons
Relatively new on the market
No integration with Google Nest
Monitronics/Brinks Home Features & Benefits
Hardware and Monitoring Pricing
When it comes to home security, hardware and monitor pricing is a big concern. Thanks to its easy-to-install home security system, Monitronics/Brinks Home currently has a user base of over 1 million.
As far as equipment is concerned, the Brinks equipment package starts at only $199 a month. Each of the packages comes with professional monitoring, which sits in the range of $40–$50.
3 Smart Security Packages Available
Monitronics/Brinks Home Security offers complete home security and automation for both interiors and exterior needs. Furthermore, you can manage your security system, receive alerts, and interact with visitors using the dedicated smartphone app.
At present, Monitronics/Brinks Home offers 3 Smart Security packages—Smart Security Essential, Smart Security Complete, and Smart Security Ultimate.
DIY or Professional Installation
Unlike other home security systems, the Monitronics/Brinks Home Security offers complete customization down to installation. All the equipment that comes with their packages is self-explanatory. But even if you select DIY installation while placing an order, you can always ask for professional help for setup.
After you select your package from the Monitronics/Brinks Home website, you will be asked a few questions. Once the order is placed, you will be mailed your security setup within a few days. After the package arrives, unpack, install, and activate.
False Alarm Prevention
When using home security systems, life gets easier as you get push notifications on your smartphone. Monitronics/Brinks Home comes with a dedicated smartphone app that helps you monitor and interact with anyone at the door.
However, with such advanced technology, false alarms are a common occurrence. Yet, this is not the case with Monitronics/Brinks Home. Thanks to its sophisticated software, you will never receive false alarms.
24/7 Monitoring—3 Year Contract
If you are new to Home Security Systems, you might not be aware of professional monitoring, which is offered by most home security providers including Monitronics/Brinks Home.
The 24/7 monitoring is done by a professional team of experts. After signals are transmitted from your system, the team analyzes that data and will contact the police or the fire department in case of an emergency.
Smart Control Panel
The Monitronics/Brinks Home Security comes with a smart control panel. You can control and monitor the security of your home from your phone.
Using the app, you can manage your security systems, lights, camera, and other smart gadgets. You will also be receiving security and motion alerts directly to your smartphone. And lastly, you can see and speak to anyone at the door using the app.
PIR Motion Sensors
The Monitronics/Brinks Home Security has advanced motion sensors. However, there is one big problem with using motion sensors—they often pick up unnecessary movement.
For instance, you might get an alert when a dead leaf has fallen from the tree. This notification is not important. Similarly, you might get false alarms triggered by your pet.
But do not worry, the Monitronics/Brinks Home Security only picks up motion from pets that are over 40 lbs.
Door & Window Contacts
Any advanced home security provider will give you separate sensors for picking up contacts on the door and windows. Thanks to these sensors, you will get notified immediately if someone tries to break in through the window or your back door.
These sensors are not energy extensive. They can function perfectly on two to three AAA or lithium watch batteries. You might not need to replace their batteries for 10 years.
Video Doorbell & Outdoor Camera
The Monitronics/Brinks Home Security also comes with a dedicated camera that will sit right at the front gate or door of your home. It can live stream video footage directly to the mobile app.
This way, if someone knocks on your door, you can first see who it is before opening the gate. Furthermore, to make things easier, you can speak and listen to the person at your door directly by using the mobile app.
Smartphone App
As we have mentioned earlier, Monitronics/Brinks Home Security has its own dedicated app, which allows you to set specific moods for the entire home security system. These moods can be Home, Away, Sleep, and Wake Up.
Whatever movement your motion sensors pick up, you will get notifications about them straight to your app. Do not worry about false alarms. The Monitronics/Brinks Home Security system comes with advanced false alarm prevention.
Compatible Smart Home Devices
Just like any other home smart security, the Monitronics/Brinks Home Security is compatible with both Google Assistant and Amazon Alexa.
In fact, it comes with Google Assistant built in. So, right after the setup is complete, you can use simple voice commands to control your home security system. When you leave home, simply say, "Ok Google, set security to Away and Guarding."
Monitronics/Brinks Home Security relies on skills from Alarm.com to work in sync with Amazon Alexa, Siri, and Google Assistant.
Questions About Monitronics Alarm Systems
At SmartHomePerfected we always advise readers not to undertake any work they are not competent in performing and if in any doubt, it is best to seek the assistance of a professional.
How to reset a Monitronics alarm system?
Monitronics/Brinks Home Security is highly secretive about its codes. This means that if you lose it or if the previous owner of your newly bought house forgets to share the code with you, you might not be able to access it.
 
However, if the Monitronics/Brinks Home Security is built using the Ademco clones classic, you might be able to access your code.
 
In that case, take out the battery and connect the system to AC power. Within 50 seconds, press the keys "* + #" simultaneously on the keypad. From the program mode window, press "#20". This will reveal the alarm system's code. Read it, and exit the program by pressing "*99".

How to replace the battery in a Monitronics security system?
If the battery on your Monitronics/Brinks Home Security system is dead and you need a new one, you will need a flathead screwdriver.
 
Using this screwdriver, take off the top cover of the system. Unplug the battery and remove it from its place. Take the new set of batteries and insert the plug into the slot. Once done, put back the cover of your system.
 

The Verdict
In this article, we have compared Monitronics/Brinks Home Security with three other popular home security providers—Frontpoint, Vivint, and SimpliSafe. In the last part of this article, we looked at the benefits of using Monitronics/Brinks Home Security.
Do let us know if you have any further queries. If you did not understand any part mentioned above, please leave us a comment below!
Sources