Nothing beats the convenience, comfort, and atmosphere a motorized electric curtain brings to your home. But with so many options available, finding the right solution for your home can be tricky.
We provide options for those interested in a DIY installation and those looking for professional installers to take care of it.
How do Motorized Curtains work?
There are two essential parts of a motorized curtain unit. The motor, which provides the torque to pull and push the curtain, and the curtain rail, which is the path for the curtain to travel.
Traditional motorized curtains are triggered by a wall switch or an infrared remote control.
Smart curtains can be controlled by voice assistants (such as Alexa, Google Assistant, or Siri) and software (such as Google Home, Apple Homekit, or mobile apps). This is typically achieved by communications from cloud services to the curtain unit, via Wi-Fi although some can be locally controlled via Z-Wave or Zigbee.
The types of smart control include voice commands, mobile app control, setting schedules (such as opening in the morning and closing in the evening), or including the unit in scenes or routines (which triggers multiple devices simultaneously).
Below we share our unbiased and in-depth review of the best-motorized drapes available today.
Battery powered and ideal for lightweight drapes up to 8kg / 17lbs
The Switchbot Curtain Motor is a device that turns your conventional curtain into a smart one. You don't have to waste a huge amount of time in installing an electric curtain system.
Top Features
The timer feature allows users to schedule the time the curtain opens and closes every day.
The Switchbot remote allows you to control the curtain in your home without the smart home app.
The "touch and go" feature makes it easy to control the curtain with a gentle touch.
This lightweight curtain motor is super easy to set up and use. The installation process is a one-step process and it takes less than a minute to attach the Switchbot Curtain Motor to your tracks. It is compatible with all track types including the U-rail track, I-rail track, and rod track.
There are three ways of opening and closing your curtains with the Switchbot Curtain Motor. It can be controlled with the "touch and go" feature which opens or closes the curtain with a little touch. In addition, it can be controlled with a virtual assistant or the Switchbot app. The app allows you to check the status of your curtain and regulate if from anywhere. This way, you don't have to be at home in order to close your curtain.
Switchbot curtain motor is compatible with virtual assistants such as Amazon Alexa, Google Assistant, and Apple Siri. You can open and close your curtain by uttering the command word for example "Siri, open the curtains".
What we liked
The installation process is simple and straightforward.
It comes with a rechargeable battery with a lifespan of 8 months per charge.
The device can be controlled with the aid of virtual assistants
The curtain motor works with all types of curtain tracks.
The device saves the costs of buying a smart curtain.
What we didn't like
It's not suitable for heavy curtains (more than 10kg).
Battery Operated Motor for quick installation
Somfy operates at the higher end of the smart home world, typically deployed with professional grade systems like Control4, Crestron and Savant.
Top Features
Battery powered means there is no need for electrical work
Silent operation so no annoying hum as they open and close
Smartphone and Remote Control
If you're looking for a reliable, high-end system to control your curtains then Somfy is well worth considering. The units are well made and their team of dealers and installers have built up a lot of experience in specifying and installing these devices. You also get a 5-year guarantee on the Somfy motor, which is pretty good.
The system works with a variety of pleat types such as Pinch Pleat, RippleFold, and Accordia.
The system itself is controlled either by remote control or the myLink app. Using a Zigbee network, you can create scenes in the app to trigger multiple devices at the same time. For example, a "Morning" scene could open all of the curtains in your home, turn off the lights, and warm up your morning coffee! The app is compatible with lots of other smart home device manufacturers.
As they are battery powered, there is no need to hardwire them to an electrical circuit or install an outlet.
A lot of the cheaper motorized curtains have a loud annoying hum when the motor is engaged. The Somfy unit is practically silent which is ideal.
Great for heavy curtains up to 70kg / 150lbs
The Quoya Drapery System, Electric Curtain is another leader when it comes to motorized curtains technology.
Top Features
Compatible with Alexa, SmartThings, IFTTT, and Google.
Customizable to windows of any size up to 3.2 meters.
Supports one way or two-way curtain opening systems.
The Quoya Drapery System, Electric Curtain is not only elegant but has all the features necessary for flawless and smooth operation.
A top advantage of having electric curtains is the convenience they offer. And Quoya has included all the features necessary for ultimate convenience and comfort.
Whether your windows are wide, small, narrow, or high, you are sorted. The tracks from Quoya are customizable to fit any window size up to a width of 3.2 meters.
Installation
Their installation too is a breeze. All accessories needed for installation are included in the package. And you do not necessarily require a professional to help with the installation. You can easily do it by yourself in less than an hour. To make the process even easier, the manufacturer included a clear and detailed step-by-step installation video.
What's more, installation is versatile and works with both side-to-side and center-to-sides open systems. You can customize the system to either pull from the left, right, or center. The package also includes wall and ceiling brackets.
Features
Another thing that makes this motorized curtain stand out from the rest is its numerous smart functions. You can control your curtains either using the included remote control or via the phone app.
The electric curtains also have touch motion activation. They'll automatically open or close when they detect attempts to open or close them using your hands.
The motor is also super quiet. You'll only hear the shuffling sound produced by the usual opening of curtains.
Smart Home Integration
Quoya automatic curtains also work perfectly with Alexa, SmartThings, IFTTT, and Google. This means that you can also use your voice for totally hands-free operations.
For smart home enthusiasts, you can integrate it with a smart home hub or controller to create scenes for morning and evening.
And if you are like me who often forgets to open the curtains to my bedroom in the morning, these smart curtains have a schedule setting option. Using the phone app, you can program your curtains to open or close at the desired time.
However, one thing worth noting is that these motorized drapes don't work with grommet drapes. It only works with hook-on curtains.
Tech Specs
One of the main challenges when it comes to choosing the best-motorized curtains is their maximum weight capacity.
Fortunately, with the Quoya automatic curtains, this shouldn't be a major point of concern. The motor is strong and well made and can pull a load of up to 70 kgs. It has 8 hooks per meter.
And if you want a system that allows dual step up, you can either use two sets of ceiling brackets or purchase Quoya's twin-wall brackets.
What we liked
Control using voice commands.
Supports touch motion activation.
Sleek design and sturdy construction.
Easy to install and operate.
Includes a detailed installation instruction video.
What we didn't like
Could have included an option to set operation timer based on sunrise and sunset.
Doesn't work with grommet drapes.
Compatible with a wide range of curtain types, even vertical!
Similar to Somfy, Lutron requires professional installers to come out to measure up your windows and custom order the appropriate unit.
Top Features
Variety of Pleat Styles Supported
Variety of Drapery Track Types Supported
Works with Vertical Draw Curtains
Lutron Sivoia QS is another installer-grade system that is worth considering if you are looking for a long-term reliable system.
This heavy-duty drapery track system supports a wide variety of drapery types such as single and double straight tracks, curved tracks, 90-degree angles, track splicing, and more.
You have the choice to open from the left, right, center, or tandem and there are a number of motors available depending on the weight of the curtains.
Sivoia QS also works for blinds and can be controlled by the Lutron App via the Lutron Smart Bridge Pro.
Siri / Homekit compatible
The Curtain Call motorized curtain track is made with your complete comfort and convenience at heart.
Top Features
3-channel remote ideal for dual curtains.
Allows manual operation in case of a power blackout.
100 lb. curtain weight limit.
The right lighting can instantly change the ambiance of any room. And the Curtain Call Electric Remote Controlled Drapery System is designed to help you achieve exactly this.
The curtain track is made with your complete comfort and convenience at heart. And the installation process is also a breeze. It comes with clear and easy-to-follow instructions.
Installation
If you are a DIYer you can install these curtains in about an hour. But if you have long and wide curtains, you'd probably need help from another person to hold the motorized track in place.
The installation is flexible and can be done either on the wall or ceiling. And the ceiling mounting brackets are included in the package.
However, if you intend to mount your curtains on the wall you should make a special request for wall mounting brackets to be included in your package.
Curtain Types
Have you been eyeing one of those smart curtain systems but probably thought you'd need to rob a bank to acquire one? Here's some good news. You do not require special curtains for this rod. It works perfectly with any pleated curtains that have hooks. On top of that, every curtain is customized to fit the window it is to be installed.
You can use the Curtain Call electric curtains either for a center draw or a side-draw opening system. Their operation is quiet and the curtains are reliable.
But if you would like to enjoy complete smart home features, you would need to get the Wifi Smart Plug and Curtain Call Adapter Cable 1450. These two are not included in the package and are bought separately. And although the price can add up, the convenience you'll get when using Amazon Echo with your curtains is unmatched.
Tech Specs
Also included is a highly sensitive remote that works within a radius of 100 meters. Simply press the open, close, or stop buttons to operate your curtains.
The operation of these automatic curtains is extremely easy making them ideal for the elderly. And unlike other options that need you to long-press the button on your remote for them to initiate a command, this one only needs one gentle push and you're good to go.
What we liked
Can be wall-mounted or ceiling mounted.
High quality and well made.
Curtain track is custom-made to your specific order.
Quiet operation.
Allows center open, left pull, or right pull curtain opening system.
What we didn't like
Needs Wifi Smart Plus and a Curtain Call adapter Cable 1450 (both sold separately) to hook up with Alexa.
Curtain hooks are not provided.
Can purchase the bare unit or also choose from a selection of drapes
This mains-powered motorized curtain supports track lengths from 88 inches to 157 inches.
Top Features
Compatible with Google Home and Alexa.
Blackout motorized curtains.
Thermal insulated.
Made by gurus in the smart curtains and smart blinds industry, these curtains have become quite popular. They are made from 100% top-quality polyester.
On top of that, they provide a total blackout effect for ultimate privacy. The fabric is soft and silky and the color options are vibrant. Close your curtains to block the sun's glare. They'll also help to block UV rays that often cause fading to your furniture.
What's more, these curtains can be controlled using a mobile app, remote control, or Amazon Alexa. These smart operations require no hub. As if that's not enough, the curtains have an adjustable rod to fit any size of window.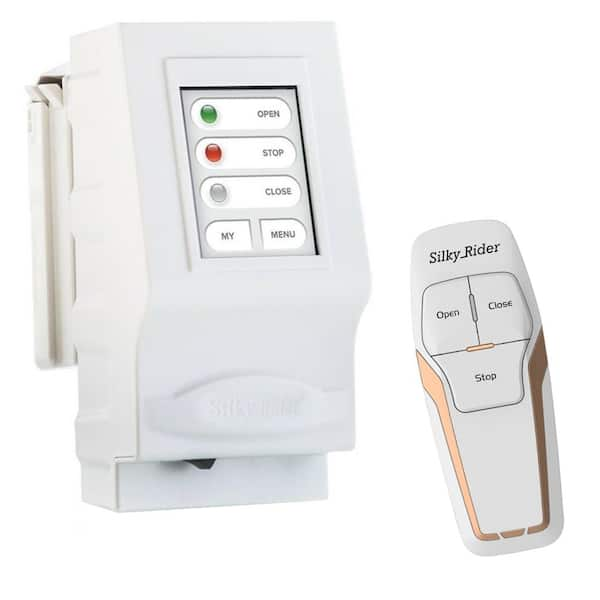 Heavy-duty power curtains with app control
The Silky Rider system is perfect for retro-fitting existing pull-cord tracks or if you are planning on installing a new pull-cord.
The Silky Rider motorized curtain unit provides an easy way to retrofit your existing pull-cord tracks. You have the option of using either the buttons on the motor, the remote control, or the smartphone app.
The motor is pretty quiet and the system features a soft start and emergency stop system for increased safety. Routines for morning and evening are pretty useful if you want to open or close a number of curtains at once.
Similar to the Somfy unit, Silky Rider offers a 5-year guarantee or 120,000 cycles, which is a lot!
Variety of track lengths
The Homesupplier Smart Home Curtain Rod is one of the smartest and efficient motorized curtains you will come across.
Top Features
Compatible with Google Home, Amazon Alexa, Smart Life, IFTTT, and Tuya.
Manual open option during blackouts.
Highly customizable curtain operation settings.
Yet another product that makes it to this list of the top motorized drapes is the Homesupplier Smart Home Curtain Rod.
To begin with, it is a heavy-duty and durable option that will last for years.
Smart Features
Also, the Homesupplier Smart Home Curtain Rod has all the smart functions you would possibly need in a smart curtain. You can control it either using a smartphone app, a remote control, Echo, Alexa, Google Home, and more.
And that's not all. This smart curtain is designed to make your life as easy as it can get. It has a smart motor that can recall the exact distance and position setting you prefer.
On top of that, the automatic curtains can also be operated manually. This feature is extremely crucial especially when power is off. Simply apply a gentle touch trigger and your curtains will close (or open) automatically. And to help make your busy mornings less overwhelming, you can schedule a timer for closing and opening your curtains. The timer can be set either using a remote or your smartphone app.
Installation
Considering the numerous smart features packed in these motorized curtains, most customers really appreciate the easy installation process. The tracks can be customized to fit your window. And you can easily assemble the track by yourself.
The only snag is that installation instructions are not the most straightforward.
Tech Specs
With a maximum weight rating of 100 lbs, this curtain motor can control long curtains comfortably. It comes with an extra-long 9 feet power cable and a three-prong 110V AC plug.
The remote can control the curtains from a radius of up to 160 ft. And it needs two AAA batteries for your remote. It also has an LCD screen for easier operation.
One remote can be set to control up to a maximum of 16 sets of curtains.
What we liked
Remote can set a timer for automatic opening and closing of curtains.
Versatile installation.
Quiet smart motor.
Strong and durable.
Can be controlled via app, remote, or voice assistant apps.
What we didn't like
Ideal only for pinch pleats drapery.
Installation instructions could have been clearer.
An easy-to-install smart curtain
This is another top motorized curtains option by SimpleSmart.
Top Features
Manual and (or) automatic operation.
Smartphone, voice, or remote control.
Light touch-trigger operation.
Are you searching for a super quiet yet reliable motorized curtain for your home?
This motorized electric curtain track is extremely quiet and smooth. Installing this curtain track is also super easy. And to ensure that you have no trouble along the way, the tracks can fit a wide range of lengths. For instance, if your window size is 36" you would choose the 36" to 84" track size.
Curtain Types
On top of that, the motorized curtain is compatible with ripple fold and pinch pleat drapery types. A variety of track configurations are also available. You can now motorize even curtains that have curves or bends.
Voice Assistant
The smart motor is compatible with Alexa voice assistant. Command Alexa to open or close your curtains totally hands-free at the comfort of your couch. These motorized curtains can also be controlled using a smartphone app.
However, there is no timer setting in the standard package. You would need to purchase it separately.
Tech Specs
The motorized tracks are available from a length of 4 feet to 20 feet. Each purchase includes a 10-inch AC power plug that is long enough to access a nearby power outlet.
And, the electric curtains support both sides (left or right) opening systems and split (or center) open systems.
What we liked
Extremely quiet.
Works with Alexa and smartphone app.
Easy DIY installation.
Tracks can be configured to fit bends and curves.
Top-quality.
What we didn't like
Timer setting not included.
Motorized curtains with new drapes included
The Graywind system comes with a wide range of drapery styles to suit every home!
Last on our list is the Graywind motorized curtain unit. This is the only unit listed that actually comes with drapes which may be ideal for some people. There is a choice between 18 swatches and colors to suit the style of your room.
The system can be voice-controlled by Google Assistant or Alexa. You also have remote and app control and the system is pretty quiet when in operation.
Graywind also offers motorized blinds, which can be added to your system to bulk control all window coverings in one go.
Should I Buy Motorized Curtains
Convenience
If you have long or hard-to-reach curtains, you could definitely use an extra hand. With a motorized curtain, you will no longer have to stack up stools to reach that high curtain.
You can also forget the boring routine of opening and closing your electric curtains every morning and evening. Instead, enjoy the experience of hands-free operation with a simple touch of a remote, wall switch, or your smartphone's screen.
And the smooth automated operation (and reduced handling) of your curtains ensure they'll remain in good condition for longer.
Smart Home Integration
Motorized curtains can also be integrated with a smartphone app. Most options available are compatible with voice assistants such as Siri, Google, and Alexa.
Additionally, you can integrate your curtain system with other smart devices in your home such as light sensors for a smarter home. Your curtains will automatically open at sunrise and close in the evening at sunset.
Security
Another advantage of installing motorized drapes is that you can control them remotely from any location in the world.
By installing an app on your mobile phone, you can easily command your curtains to close or open. You can also schedule a timer to have your curtains opened or closed automatically.
These features help to keep likely intruders guessing whether you are home or not.
Great for the Elderly or People with a Disability
With age, a task that would seem very easy (like opening a curtain) can turn out to be quite daunting. However, the installation of a motorized curtain system will make these operations simple.
The automatic timers can be really useful, especially for the elderly who can sometimes forget to do routine activities, like closing the kitchen curtains.
And the remote control allows you to control your curtains, either individually or as a group, without moving an inch. This feature can also be really useful for people with a disability.
Motorized Drapes Features to Consider
Side Open or Centre Open
A key feature that shouldn't be ignored when purchasing smart curtains is the installation options. If you have curtains that have a central opening system, then your choice of motorized curtains should support the same.
A good idea would be to go for an option that allows all three installation systems. That way, even if you upgrade your curtains to others with a different opening system, you will have nothing to worry about.
Size
Smart curtains come in a wide variety of sizes thus finding one that matches your window size shouldn't be a challenge. But, if the size of your window isn't included, worry not. Most of the options reviewed above can be customized to fit your specific window size.
Installation – DIY or Professional
Are you a DIYer? Well, the installation of motorized curtains should be a fairly easy task for you. However, if you have no knowledge about such DIY projects, ensure that your choice of curtains includes clear and easy-to-follow instructions.
And because installation can be time-consuming, you can as well consider hiring a professional especially if you are installing more than one electric curtain.
Quality & Durability
Motorized drapes are a costly investment. Thus you must ensure that you are getting absolute value for your coins.
Look at the maximum weight limit of your smart curtain. If your curtains are long and heavy, go for a motorized curtain that is well made to hold this weight.
Price
Like with all other purchases, the price of an item isn't always directly proportional to its quality. New brands will often sell equally top-quality products at a lower price. Also, the more the smart features the higher the price tag.
Retrofit or New Curtains
Do you want to retain your old curtains or do you intend to buy new curtains? The answer to this question will play a major role in determining what motorized curtains are best for you.
If you want to maintain your old curtains, go for electric curtains that are compatible with your current style of curtains.
Smart Home Hub Integration
Some electric curtains only support control via a remote. The remote can be designed to include several handy features. For example, some remote controls are voice-activated and are programmable to include a timer that automatically closes and opens your curtains at predetermined times.
Other options can be integrated with Alexa, Google Home, and controlled using a smartphone app.
Common Questions Relating to Motorized Curtains
How do you install motorized curtains?
The installation process of motorized drapes is pretty straightforward. You'll only need a pair of scissors and a screwdriver. And if you follow the instruction manual (or video provided) to the letter, the entire installation should be complete in 2 hours tops. 

The motorized curtain system package comes with all the accessories you'll need during installation. The curtain rail provided is often adjustable and can fit a wide range of windows. Simply hook your curtains and pair them with your app and you are good to go.
How much do motorized drapes cost?
The price of a single motorized curtain can be as low as $220. Premium options can cost up to $1000. And this price can significantly add up depending on the number of electric curtains you're installing.
Can I retrofit my existing curtains to make them automatic?
Yes, you can easily convert your existing curtains to motorized curtains. However, you must put into account the type of opening system of your current curtains. Most smart curtain tracks only work with horizontal hook-on curtains. These aren't compatible with grommet drapes.
Can I control my curtains with Alexa?
Although some motorized curtains only allow operation through a remote or a wall switch, there are several other great and 'smarter' options. These connect to your Wifi to allow control via a smartphone. On top of that, they are also compatible with Alexa, Siri, and Google Home.

Note that most motorized curtains that do not support Alexa can be converted to smart curtains by connecting to a third-party hub.
The Verdict
Eventually, after all the searching, we were able to identify 5 exceptional choices of motorized curtains that made most customers happy. We also went ahead and added 3 more options worth considering.
Our top choice is the Switchbot Curtain Motor while Somfy Motorized Curtains is also a great option. The ideal choice for you will depend on your budget, window sizes, opening direction, and personal preferences.
Thanks for reading! If you have any questions or know of any other motorized curtains worth adding, feel free to leave a comment below!
Battery powered and ideal for lightweight drapes up to 8kg / 17lbs
The Switchbot Curtain Motor is a device that turns your conventional curtain into a smart one. You don't have to waste a huge amount of time in installing an electric curtain system.
Top Features
The timer feature allows users to schedule the time the curtain opens and closes every day.
The Switchbot remote allows you to control the curtain in your home without the smart home app.
The "touch and go" feature makes it easy to control the curtain with a gentle touch.
Sources