Ring and Lorex offer excellent options for homeowners and businesses alike. In this article, I discuss their key differences to help you decide which brand to choose.
I examined a total of 41 security cameras, including 12 from Ring and 29 from Lorex in this analysis. A comprehensive list of product codes included in this research can be found at the end of the article.
The Winners
Best for Home Security: Ring
If you're looking for entry-level security cameras with an easy setup and seamless smart home integration (particularly with Amazon products), Ring is definitely the best option.
Ring models have a user-friendly interface and integrated mic and speakers. This is ideal for customers who prefer the ease of installation, remote access, and integration into their current smart home ecosystem.
Best for Advanced Security: Lorex
If you are looking for a versatile, and comprehensive security system that offers flexible financing options, Lorex is an excellent choice.
With a wide variety of products that work with every budget, Lorex offers multiple storage options and cameras with powerful zoom capabilities, including PTZ functions.
Additionally, it boasts better durability, water, and dust resistance, and more extensive temperature and humidity tolerances, making it a great choice for use outdoors.
Winners per Category
| | |
| --- | --- |
| Category | Winner |
| Storage and Interoperability | Lorex |
| Smart Monitoring | Ring |
| Audio | Ring |
| Pan-Tilt-Zoom | Lorex |
| Night Vision | Lorex |
| Video | Draw |
| Power & Data | Draw |
| Camera & Lens | Lorex |
| Build Quality | Lorex |
Overview
In this head-to-head between Ring and Lorex, I have found that these brands differ in their product ranges, features, and pricing, which makes a great point for discussion.
Ring
Ring was founded in 2013, revolutionizing the Ring Video Doorbell that let users see and talk to visitors at their front door via smartphone.
Today, Ring offers a wide range of indoor and outdoor security cameras, a security system, and other smart home devices. Amazon acquired the company in 2018 but continues to operate as a standalone brand.
Today, Ring is known for its user-friendly app and compatibility with other smart home devices
Lorex
Lorex, on the other hand, has been around since 1991 and is based in Canada.
It started out by making analog security cameras for commercial and residential use but has since expanded its product line to include IP cameras, NVRs, DVRs, and other security solutions which makes the brand a popular choice among consumers in North America and Europe.
Product Range
Looking at the variety of camera types, both brands offer a range of options, such as video doorbells, bullet cameras, floodlights, and more.
For video doorbell cameras, Ring offers quite a few options, such as the Pro 2 and Video Doorbell Elite, which fall into the high-end product range. Lorex, on the other hand, has fewer choices but still provides both budget and high-end options in this category.
Wired vs Wireless
Ring generally offers wireless data transmission along with wired or battery power options, while Lorex provides both wireless and wired data options and powering options.
This means that both brands provide flexibility in installation, based on consumers' preferences.
Cloud Subscription
In this case, Ring offers optional cloud subscriptions for most of its models, while some models require a subscription like the Ring Pro 2.
Lorex, in contrast, doesn't require cloud subscriptions for any of its models. This could make Lorex more appealing for those looking for a one-time investment without needing to worry about additional monthly fees.
Color Options
Ring generally offers its cameras in both white and black, whereas Lorex predominantly provides white cameras, with a few models like the B451AJD-E, LNB9242B-W, and E841CA-E that comes in both white and black.
Pricing
Both Ring and Lorex offer options in various price categories.
Ring has cameras available in mid-range and high-end categories, with prices ranging from $59.99 to $349.99. Lorex's range is more extensive, offering budget, mid-range, and high-end options, with prices starting as low as $39.99 and going up to $1,199.99 for certain specialized camera models.
This makes Lorex suitable for a broader audience in terms of budget.
Warranty
Knowing the warranty period is beneficial when comparing the two brands. You can get a sense of the level of confidence that the manufacturer has in their product, as well as the level of support you can expect if something goes wrong.
Ring offers one or two-year warranties, depending on the model. Lorex typically provides a one-year warranty across most of its models.
Storage & Interoperability
One of the key considerations in choosing a home security camera is its storage and interoperability functions since video footage can take up a lot of storage space and is often integrated into existing software and hardware.
Here, I examined the different storage options and compatibility functions of Ring and Lorex.
Winner: Lorex
Ring storage tends to rely on monthly subscriptions.
Storage
Ring's primary storage option is its cloud service. This allows users to access footage from anywhere and does not require physical storage devices.
Some popular models in this brand include the Pro 2, Video Doorbell 4, Video Doorbell 3, and the Indoor Cam. All of these models rely on cloud storage. However, one limitation might be the potential monthly subscription fees required for accessing stored videos.
On the other hand, Lorex provides multiple storage solutions for their cameras, including microSD cards, NVRs (Network Video Recorders), DVRs (Digital Video Recorders), NAS (Network Attached Storage), wireless hubs, and FTP servers.
Among the various Lorex models, a majority of them come with microSD support. A few models that offer this storage solution include W881AAD-E and E881AP-W.
This makes Lorex cameras more versatile when it comes to storage options, as it allows users to tailor their experience based on their preferences.
Interoperability
Lorex also tends to be more flexible as some models support ONVIF (Open Network Video Interface Forum) and RTSP (Real Time Streaming Protocol) enabling compatibility with various third-party software and hardware.
For example, the LNZ44P4BW and LNE9383 models are compliant with ONVIF, and the LNE9383 also supports RTSP and CGI (Common Gateway Interface).
Ring devices, in contrast, primarily provide their own ecosystem and may not be as compatible with other systems.
Smart Monitoring
I compared the smart monitoring functions of both brands which include smart home integration, consistent motion detection customization, and smart motion detection.
These functions practically reduce false detections in security cameras.
Winner: Ring
Ring tends to integrate better with consumer-grade smart home tech while Lorex works well with more advanced event tracking such as abandoned objects or missing objects.
Integration to Smart Ecosystems
Ring cameras tend to have better integration with smart home systems such as Alexa, Echo Show, and Fire TV. Most Ring camera models included in my research support integration with at least one of these systems.
In contrast, some Lorex security cameras such as W452ASDB-E and W282CAD-E also offer integration with smart home systems like Alexa and Google Assistant, but not as consistently as the Ring cameras.
Configurable Motion Zones and Sensitivity
Another important feature of security cameras is the ability to customize motion detection which can help reduce false alerts, and ensure accurate notifications.
Most Ring and Lorex camera models offer configurable motion zones, but not all Lorex models have configurable motion sensitivity.
Motion Alerts
Motion alerts are a standard feature for both Ring and Lorex models, with the majority of cameras in my research providing push notifications for detected motion.
Some Lorex models like the E893AB-E, E893DD-E, and E892ABW also include other event triggers, such as video tampering, abandoned objects, and missing object detection.
Smart Detection
While perimeter protection is not widely supported in both brands' researched camera models, the smart motion detection features seem more diverse for Lorex cameras.
Several Lorex camera models offer a range of detection features such as a person, vehicle, object, animal detection, and even people counting and heat maps.
Ring cameras mainly focus on person and object detection features.
Audio
Here, I take a look at the audio functions of Ring and Lorex, taking note of their microphone, speakers, alarms, and siren loudness.
Winner: Ring
Ring has better support and performance in two-way communication
Integrated Microphone and Speakers
Almost all Ring models have both integrated microphones and speakers, while only a little over half of the Lorex models in my research have the same features.
Some of Lorex models that do not have either integrated microphones and speakers include the LNZ44P4BW, E881AP-W, and C861XC-W.
Two-way audio
This audio feature is present in all Ring doorbell camera models and other popular cameras like the Indoor Cam, Floodlight Cam Wired Pro, Spotlight Cam Plus Battery, and Stick Up Cam Battery.
In contrast, Lorex only has about half of its models included in this research like the W881AAD-E, W452ASDB-E, and E896AB, with two-way audio.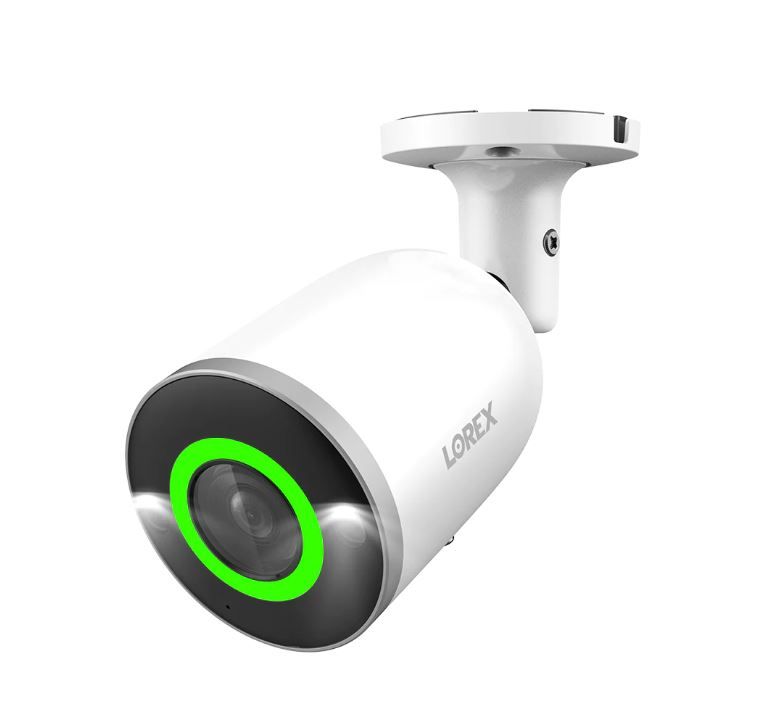 Siren loudness
Many Ring cameras feature sirens with sound levels between 100 and 110 decibels. This loudness makes it more likely to deter potential intruders or alert neighbors during a security breach.
Although only a few Lorex models seem to have integrated sirens, the W881AAD-E model matches the 110-decibel siren loudness of some Ring models, while the U471AA-E has a slightly lower siren volume at 84.4 decibels.
Alarm and audio interfaces
Most Lorex models do not have alarm interfaces, while one model, E881AP-W, includes an alarm interface and an audio interface but doesn't have an integrated microphone or speaker.
In contrast, alarm interfaces are not a typical feature in Ring products, as none of the researched models have them.
Pan-Tilt-Zoom
When comparing Ring and Lorex, I also examined their panning, tilting, and zooming capabilities which are helpful in covering all corners of a specific area.
Winner: Lorex
Lorex has dedicated PTZ models available and many of their cameras have optical zoom which is far better than digital zoom.
Ring
Most of their cameras have a digital zoom feature, but none have an optical zoom.
While the majority of Ring cameras do not have pan and tilt features, the Stick Up Cam Plug-In stands out, as it offers a 360-degree pan angle and a 90-degree tilt angle.
When it comes to choosing a Ring camera, the variety of options within the brand is rather limited in terms of advanced features.
Lorex
Many Lorex models have both digital and optical zoom capabilities, with digital zoom magnification of up to 16 times and optical zoom magnification ranging from 4 to 25 times.
A significant advantage of Lorex cameras is the presence of pan and tilt features in some models.
Cameras like the LNZ44P12B, LNZ81P25, and LZV2925SC offer a 360-degree pan angle and a 90-degree tilt angle, while LNZ81P25 uniquely offers an impressive 180-degree tilt angle.
Additionally, some Lorex cameras have advanced PTZ (pan-tilt-zoom) features such as tour, presets, patterns, and tracking.
Night Vision
Night vision is an essential feature of security cameras for monitoring and recording during low light or nighttime conditions.
Winner: Lorex
Lorex stands out with additional full-color night vision options using low-light sensors or built-in spotlights in many of their camera models
Both Ring and Lorex offer night vision functionality utilizing infrared technology. Lorex stands out with additional full-color night vision options using low-light sensors or built-in spotlights in many of their camera models. Infrared distance and coverage vary among these cameras, with some Lorex cameras having a distance of up to 300 feet in total darkness.
Spotlights
Spotlights act as an additional barrier against potential intruders. Ring offers spotlight-equipped cameras with 2000 lumens of brightness and two spotlights in most cases. Lorex also provides spotlight cameras with varying lumens and one or two spotlights depending on the model.
Active Deterrence Technology
A unique aspect of many Lorex cameras is their active deterrence technology, which can help deter unwanted visitors by emitting loud alarms or flashing lights when motion is detected. This feature is not widely available in Ring cameras, making it an important distinction for those looking for added security.
Minimum illumination for color
In terms of resolution and image quality, both brands provide HD up to 4K resolution security camera models that can capture clear images throughout the day and night. Minimum illumination for color varies across the cameras, with some Lorex models featuring color night vision with illuminations as low as 0.005 lux.
Video
Here I take a look at the video functions of both brands like continuous recording, frame rates, number of video streams, privacy masking, and video formats.
Winner: Draw
While Lorex has higher frame rates, Ring has privacy masking features which is ideal if you prefer to protect sensitive or private areas from being recorded.
Both brands also have a wide dynamic range that allows their camera models to balance the exposure of scenes with varying lighting conditions
Frame rates
Higher frame rates generally mean smoother video, so it is a significant factor to consider when choosing a security camera.
Lorex cameras offer high frame rates, with several models like the V261LCD-E and W282CAD-E boasting 30 frames per second (FPS).
Number of video streams
This determines the number of devices that can simultaneously connect and view the camera's video feed. In this aspect, Lorex models included in this research typically support two video streams, with the LNE9383 as an exception, which can support up to 3 video streams.
Comparatively, Ring models included in this research did not specify this feature.
Privacy Masking
This advanced security feature can be found on several Ring models such as the Pro 2, Video Doorbell 3, Indoor Cam, and Stick Up Cam Battery.
WDR (Wide Dynamic Range)
Both Ring and Lorex offer models with WDR. However, some Lorex models like the LNE9292B,
LNB9242B-W, E841CD-E, and E841CA-E are marketed as having Digital WDR / HDR which can provide even better video quality.
Video coding formats
Knowing the video coding format is relevant when optimizing video quality and storage, so should be considered when comparing brands. Lorex models frequently specify the video coding formats they use, while Ring does not provide this information for their models.
Power & Data
When considering power and data options, I examined the different power options the cameras have, data types, and ways of data transmission.
Winner: Draw
Lorex has a wider range of cameras to suit different requirements but probably not enough of a differentiator to win this category.
Power options
Ring cameras have various power choices, including DC, AC, battery-operated, and solar panel options.
For instance, the Ring Video Doorbell 4 can be powered using a battery or AC power. The Stick Up Cam Battery and Spotlight Cam Plus Battery have solar panel options.
Lorex cameras, on the other hand, primarily use PoE (Power over Ethernet), DC power, or AC power, with some models also offering battery and solar panel options, like the U471AA-E and U222AA.
Data transmission
Both Ring and Lorex cameras often rely on Wi-Fi to transmit data. Most Ring cameras use 2.4GHz Wi-Fi, with several models, such as the Pro 2 and Floodlight Cam Wired Pro, also supporting 5GHz Wi-Fi.
Lorex cameras also frequently use 2.4GHz Wi-Fi, and some models, like the U424AA-E, support both 2.4GHz and 5GHz Wi-Fi.
Notably, several Lorex cameras utilize PoE or coaxial cables for data transmission.
For instance, the LNE9383 and E896AB models use PoE, while the C883DA-Z and C883DA-WA models utilize coaxial cables.
Data type
Ring cameras exclusively use IP (Internet Protocol) for data transmission, while Lorex offers IP and Analog cameras.
Analog Lorex cameras, like the LZV2925SC, support various analog data formats — HD-TVI, HD-AHD, HD-CVI, and HD-CVBS — and transmit data via coaxial cables. In contrast, their IP cameras, such as the LNE9292B and E841CA-E, use PoE or Wi-Fi for data transmission.
Camera & Lens
I specifically looked at Ring and Lorex cameras' field of view, image sensors, resolution, lens type, and aperture.
Winner: Lorex
Lorex cameras have higher image quality and resolutions. While Ring have cameras with a wider horizontal field of view
Field of View (FoV)
This feature refers to the camera's visible range. Among the Ring models, the horizontal FoV ranges from 110° to 160°, while the Lorex models' horizontal FoV varies from 90° to 124°.
Lorex has models with adjustable FoV such as the LNZ81P25, E881AP-W,
U222AA, and W282CAD-E, which is ideal for individuals who need flexibility in monitoring particular regions.
Image sensors
Ring mainly uses CMOS sensors, widely known for their lower cost and power consumption. Most Lorex models also utilize CMOS sensors, but some models offer better image sensors, like the 1/1.8″ CMOS Type, providing higher image quality.
Resolution
When comparing resolutions, both Ring and Lorex provide models featuring 2MP (1080P) resolutions. However, Lorex outshines Ring with multiple models offering higher resolutions, such as 2K (2560×1920), 4MP (2560×1440), and even 4K (3840×2160) Ultra HD for superior image clarity.
Lens type
Both brands primarily offer fixed-focus lenses, suitable for users requiring constant focus on a specific area. However, Lorex stands out with its motorized and manual varifocal lenses, allowing users to adapt their camera's focus as needed.
Aperture
Lorex models boast a wide range of maximum apertures, which significantly impacts their low-light performance, while Ring has not specified this information on the products included in this research.
Build Quality
Here, I examined the weather resistance, maximum operating humidity values, and weight of both brands.
Winner: Lorex
Lorex cameras have sturdier materials, a wider range of operating temperatures, and higher max humidity ratings.
Weather Resistance
Ring offers weather-resistant cameras that are primarily built using plastic materials. They have a standard operating temperature range, with a minimum of -5°F and a maximum of 120°F.
Lorex, on the other hand, offers cameras with official IP (Ingress Protection) ratings, such as IP65, IP66, and IP67, which provide water and dust resistance. Many models are made with metal or aluminum alloy, making them more durable and suitable for outdoor use.
Lorex also offers a wider range of operating temperatures, with a minimum of -40°F and a maximum of up to 158°F in some models like the LNZ44P12B, and LZV2925SC, indicating better performance in extreme weather conditions.
Maximum Operating Humidity Values
Ring does not provide this specific information on the models included in this research, while the majority of the Lorex models included in this research have maximum operating humidity values ranging from 90% to 95%. This suggests that Lorex cameras may perform better in high-humidity environments.
Weight
The weight of Lorex cameras varies and can be heavier than Ring models, which is something to consider if the camera will be mounted on a delicate surface.
Camera Models Included in Research
Ring
Lorex
Pro 2
Video Doorbell 4
Video Doorbell 3
Video Doorbell Pro
Video Doorbell Elite
Indoor Cam
Floodlight Cam Wired Pro
Spotlight Cam Plus Battery
Stick Up Cam Battery
Stick Up Cam Plug-In
Spotlight Cam Plus Wired








U424AA-E
W881AAD-E
W452ASDB-E
LNZ44P4BW
LNZ44P12B
LNE9383
E896AB
E893DD-E
E893AB-E
C883DA-Z
C883DA-WA
LNZ81P25
E881AP-W
F461AQD-E
C861XC-W
LBV2531W
W461ASC-E
V261LCD-E
B451AJD-E
LZV2925SC
U471AA-E
U222AA
W282CAD-E
LNE9292B
LNB9242B-W
E841CD-E
E841CA-E
E892ABW
Sources: