Smart blinds are the latest trend to add that extra touch of luxury to your home! You can invest in new stylish smart blinds or retrofit your existing blinds for a low-cost automation option!
You can now control your blinds anywhere at any time using a smartphone. Better yet, you can integrate your smart blinds with a smart home hub, tying it into other devices such as thermostats and lighting. Smart blinds can help you achieve optimal lighting and temperature conditions all day long.
Check out our latest Smart Blinds video below, where we retrofit our existing blinds with a voice controlled chain motor from Aliexpress!
Best Alexa Roller Blinds
Wide selection of remote controlled roller blinds
Made with a durable polyester fabric, the Yoolax Motorized blinds can block away UV rays to give a total blackout, even in the middle of the day
Top Features
Compatible with Alexa, Apple Siri voice control, Google Home & App
Each blind is customized to fit your individual window sizes
Built-in rechargeable battery
Are you tired of the daily monotonous routine of opening the blinds of your windows? With this option, you can simultaneously open up to 15 blinds with a simple press of a button. They also work well with Alexa, Siri, and Google Home.
What I liked
Custom-made to the individual size of windows
Easy to install
Built-in battery
High-quality material
Complete thermal insulation
What I didn't like
Instructions on how to program the remote could be a little clearer
The shades come in a wide range of colors. Ranging from coffee, light grey, lake blue, dark grey … there is something to match every interior.
What's more, each blind is custom made to the size of your windows. Plus, the lack of hanging cords makes them safe for use in spaces with kids.
Best Apple Homekit Blinds
Best Homekit Automatic Blinds
Premium and classy smart motorized blinds
These smart blinds are compatible with Alexa, Google Assistant, and Homekit.
Top Features
Cordless design
Battery-powered
Compatible with Alexa, Google Assistant, and Apple Homekit
We can all agree that shades with hanging cords not only pose a strangulation risk to our dear kids but also make your space appear a little messy.
Luckily, with the Lutron Serena smart shades, this is already taken care of.
On top of that, these shades are battery operated. You won't have to deal with any hanging wires that would have otherwise been used to connect your shade to a power source. The batteries are not included in your purchase.
But what you will notice the most about the Lutron Serena smart blinds is the new convenience they offer. Opening and closing those hard to reach windows will be a breeze.
What I liked
Seamless operation using included remote
Lutron app allows control from any location in the world
Wireless and battery operated
Easy to install and requires low maintenance
Effective at blocking daylight and heat from outside
What I didn't like
One of the more expensive options on our list
The blinds also come with a remote. And when integrated with the Lutron Smart Bridge, bought separately, you can control your window shades via the Lutron app on your phone. These smart blinds are also compatible with Alexa, Google Assistant, and Homekit.
Another great feature of these motorized shades is that they are extremely quiet. The sound they produce during their operation is almost inaudible.
Best Google Home Blinds
Best Google Home Smart Blinds
Thermal-insulated smart blind
The Graywind Motorized Roller Shade is an environmentally friendly option worth considering.
Top Features
UV proof back layer that provides great thermal insulation
Can be controlled remotely using the Smart Life mobile app
Made with durable fade-proof materials that will last for years
Command Alexa to open your shades during cold days for some extra warmth. And close them during hot summer days to block away from the heat. Or you can set a schedule to open and close your blinds automatically.
These smart controlled blinds are made with top-quality polyester and a waterproof vinyl back. And along with providing ultimate privacy, these blinds are ideal for thermal insulation.
For anyone looking for a safe alternative to beaded chain blinds, this is a great choice. The motor is wireless and rechargeable. Plus, there are no hanging cords to ensure maximum child safety.
What I liked
Cordless design
Waterproof, durable, and fade resistant
Environmentally friendly
Works well with Alexa
Easy to program and install
What I didn't like
Not compatible with Samsung Smartthings
Must be plugged to a power source to work
Best Skylight Motorized Blinds
Best Skylight Motorized Blinds
Energy-efficient skylight solution
Want to take control of your room's natural lighting? VELUX Solar Power Skylight Blinds could be exactly what you need
Top Features
Solar Powered
A wide range of colors and patterns
Elegant design
To begin with, these are battery operated smart blinds that are extremely easy to install. The batteries are recharged through a built-in solar panel making them very energy efficient.
Plus, since you can let in more natural light to your room, there is a significant decrease in the amount of artificial light needed. This helps to reduce your average monthly energy consumption.
What I liked
Blends in with the interior of any space
Energy efficient
Wireless installation since the battery is recharged by the sun
Remote control for easy operations
Custom made for your roof window
What I didn't like
Not compatible with Alexa
These blinds are available in either total blackout options or light filtering varieties. They are sleek and look good in any space. You'll have a wide range of colors and patterns to choose from.
On top of that, the blinds can be either operated manually or using the included remote control. This makes them perfect for both low and hard to reach skylight blinds.
Best Multi-Blinds Control
Best Multi-Blinds Control
Control up to 15 smart shades at once
With the SUNFREE motorized roller shades you can remotely open or close up to 15 shades using one remote.
Top Features
Blocks UV and sunlight for ultimate thermal insulation
Versatile – The blinds can stop at any height you want
100% blackout
What if there was a way you could open and close all your windows at once? Well, with the SUNFREE motorized roller shades you can do exactly that. You can remotely open or close up to 15 shades using one remote.
And just like the name suggests, the SUNFREE motorized roller shades are 100% blackout. They will effectively block sunlight, UV rays, and as well insulate your house against outside heat.
What I liked
Cordless and safe for kids
Easy to install and operate
Great at blocking UV rays and sunlight
Waterproof and oilproof
What I didn't like
Not currently compatible with Alexa or Google Assistant
What's more, these blinds are made using top quality material and can be used both indoors and outdoors. But what especially stands out about the SUNFREE motorized roller shades is that the blinds are water and oil proof.
These shades also have built-in cordless motors that are rechargeable.
Best Retrofit Smart Blinds
A versatile roller blind motor
If you are looking for a solution to upgrade your old blinds to smart blinds, this may be just what you need. WiFi enabled so no need for an extra hub!
Top Features
Wide variety of tube sizes and lengths
AC or Solar Charged
Remote Control & Voice Control
The Rollerhouse smart blinds tubular motor is a versatile retrofit option that is easy to install.
It is compatible with Siri, Alexa, and Google Home voice assistants. You can now enjoy the convenience of controlling all your blinds from an app on your phone or using a remote control.
And, there is also a timer that lets you set the time you'd want your shades to open or close.
What I liked
A reliable way to motorize old blinds
App allows remote control via phone
Works well with Alexa, Siri, and Google Home
Timer for automatic closing or opening of blinds
Three setting positions
What I didn't like
Requires a little DIY expertise
Best Looped Cord Smart Blinds
Best Looped Cord Smart Blinds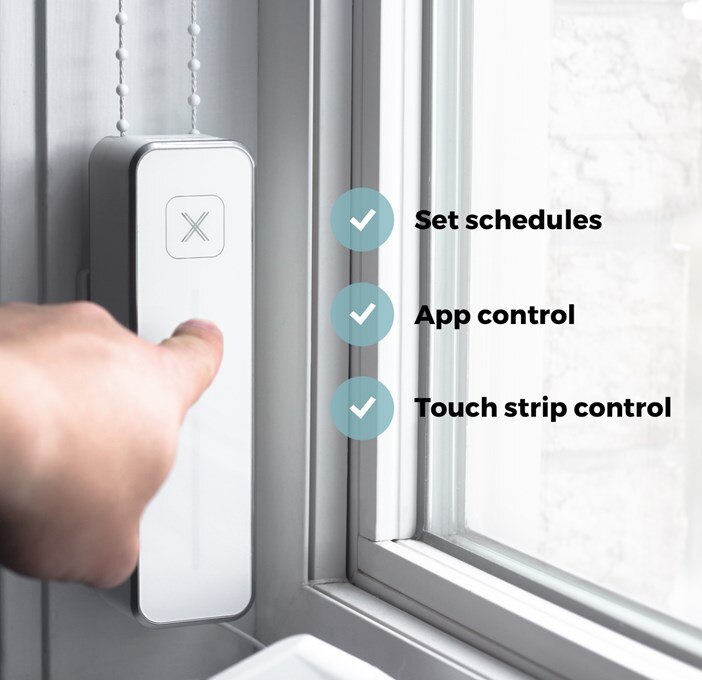 Motorize your old blinds
Introducing the ultimate solution for anyone who wants to upgrade their existing blinds to motorized shades.
Top Features
Can be battery-powered or solar-powered
Turns regular window blinds into motorized blinds
Allows you to create a schedule on when to open your blinds
This shade motor by X Axis works perfectly with any kind of shades with looped cords or chains. The size, material, or design doesn't matter.
With this gear, you can either control the shades manually by a simple touch on the gear or you control your window blinds right from your smartphone. You can as well set a schedule to have your blinds automatically open.
This gear is powered by a built-in battery that uses a solar panel for ultimate energy efficiency. It can as well be powered using AA batteries when there is insufficient solar power.
What I liked
Sleek and compact
Easy installation
You don't have to replace your old blinds
Affordable
Can be operated both manually and remotely
What I didn't like
Scheduling is limited to 25 events per month
App could have been more user friendly
Additionally. The shade motor is strong and well made. It can operate even thicker and heavier shades.
An affordable yet reliable smart blind
The performance of the IKEA smart shades matches that of most other high-end smart blinds
Top Features
Comes with a wireless remote and signal repeater
Compatible with other Home smart devices by Ikea
Completely cordless
Some smart home devices cost an arm and leg! But with the recent introduction of IKEA smart blinds, this is no longer the case. Their motorized window blinds are extremely affordable.
But do not let this low price fool you. The performance of these smart shades matches that of most other high-end smart blinds.
You can either control these shades manually using buttons on the sides. Or you can take advantage of the voice assistants such as Alexa, HomeKit, or Google Assistant.
What I liked
Perfect blackout effect
Includes timer for opening and closing
Can be controlled by a remote, mobile phone app, or manual button
Easy to install
Affordable
What I didn't like
Needs TRADFRI gateway for you to access Alexa, HomeKit, and Google Assistant
You can also connect your blinds to other IKEA smart home devices you have installed in your home.
Another option would be to use the IKEA's mobile app to set timers of when you want your blinds to open or close.
However, for you to enjoy the benefits of using the IKEA app or other voice assistants you'll require the TRADFRI gateway which is sold separately.
The installation of the blinds is easy and their performance is just right. You'll get good value for the price.
Should I Buy Smart Blinds?
There are plenty of reasons why it makes sense to retrofit your existing blinds or replace them with smart blinds.
Safety
Unlike traditional window blinds that require you to pull a string when opening or closing, smart blinds have built-in motorized systems.
You can now open or close your smart blinds through a simple touch of a button.
If you have children or pets, then smart blinds are worth considering.
You will no longer have to worry about the risk of strangulation to kids and pets often caused by hanging cords.
Accessibility
If you have windows that are installed in a hard-to-reach area, then a smart blind could be what is ideal for you. You'll no longer have to stack up crates or stools to try and reach these windows every morning.
Temperature Control
Some smart blinds come with built-in temperature and light sensors. The sensors automatically open or close your window blinds depending on the light and temperature levels.
Total blackout smart blinds can block away sunlight, UV rays, and even warmth. If the room is too cold, the blinds can open and close when there is too much heat outside.
Security
Are you going to be away from home for a long period?
With smart blinds, you can trick your neighbors and potential burglars into thinking that you are at home.
You can open your window blinds, in the morning, remotely from any location in the world through a mobile app. And in the evening perhaps you can set up an automatic timer for when you'd want them to close.
Privacy
Smart blinds are also a perfect way of blocking away distraction from the outside world. This can be especially useful if you live in a busy neighborhood.
Additionally, simply close your total blackout smart shades if you don't want people to notice that you are at home.
Smart Blinds Features to Consider
When buying a smart blind, your ultimate goal should always be to make your life as easy as possible. Go for options that provide ultimate comfort, convenience, and energy efficiency.
Below we'll look at the factors you should have in mind when searching for a smart controlled blind.
Features and Accessories
Remote Control – A remote control or a free mobile app helps you to control your smart shades remotely.
Other options allow you to set schedules or timers to automatically close or open your blinds.
Built-in Sensors – Some great smart shades come installed with temperature and light sensors. This allows you to control your blinds based on the temperature and light conditions.
Built-in Motors – Will receive the command from your remote, mobile app, or voice to do the otherwise manual work of moving your blind either up or down as needed.
Compatibility with Smart Devices
The major advantage of smart devices is the convenience of being able to trigger otherwise monotonous and tiring tasks effortlessly and often handsfree.
Similarly, some great smart blind options are compatible with your smartphone. This is a great feature that allows you to operate your smart shades anywhere at any time through a mobile app.
Ease of Installation
The most ideal smart blinds shouldn't require a degree in rocket science for you to install. Their installation should be straight forward. It shouldn't take much of your time.
Ease of Operation
Remember your goal of installing a smart shade is to make your life easier. Thus, your choice of smart blinds must be easy to use.
Go for options that have easy and straightforward instructions on how to program your remote.
Types of Shade
There are two main types of smart blinds that you can consider, that is the replacement blinds and retrofit existing blinds.
Retrofit existing blinds allow you to upgrade your existing window shades to more convenient smart blinds.
These are perfect for anyone who would love to enjoy the convenience of motorized shades without getting rid of their current shades.
On the other hand, replacement blinds comprise a new set of shades that will replace your existing shades.
Design
Blinds play a vital part in completing the interior design of any space. Ensure your choice of motorized shades accentuates the overall beauty of your space.
Common Questions about Smart Blinds
What are smart blinds, and how do they work?
Smart blinds are state-of-the-art window coverings that come with in-built motors giving you 100 percent remote control over their lowering and raising. In some instances, you'll find smart blinds with adjustable light sensors to help you adjust depending on the exterior lighting. All you need to do is press the remote control and see the magic happen. There are also smart blinds integrated with virtual assistance capabilities so that you're able to give voice commands. 
How do you install smart blinds?
The mode of installation depends on the type of blinds you're interested in. Some can be fitted onto your existing shutters. In that case, the new blinds will be lifting, tilting, and lowering the old ones for you. You also have the option of installing an entirely new set of blinds. 
How much do smart blinds cost?
The price of smart blinds varies depending on if new blinds are being ordered or existing blinds modified. In addition, the window size is a major factor in cost along with quality of fabric or material. Most smart blinds will range from $150 – $500 per window. 
How are smart blinds powered?
There are three ways smart blinds are powered. Battery wands can motorize existing blinds using 8 – 16 AA lithium batteries. Lithium type batteries are preferred because of their ability to withstand intense sunlight. Some blinds are powered by solar energy. These will come with a small portable and rechargeable battery wand that is charged with sunlight. The other power type is hard-wired and leverages a 100-volt power cord plugged into an outlet. 
The Verdict
From smart TVs to smart cameras, and now smart blinds, it's amazing how much time we can save by using smart devices. Finding the best smart controlled blinds shouldn't be a challenge now that you have all the information needed to make a decision.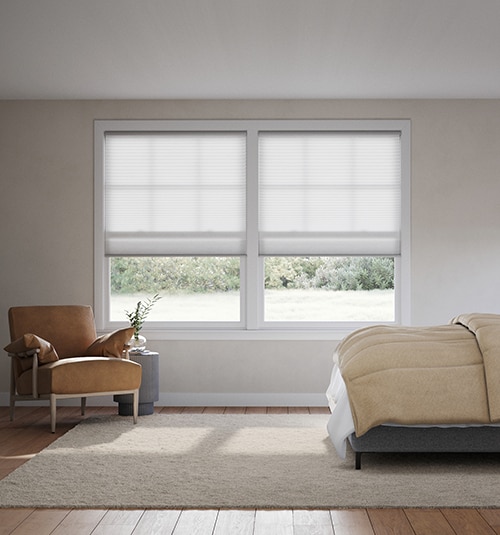 Hundreds of compatible shades and styles
Blindsgalore has over 35 Alexa compatible blinds and shades, to fit all styles.
Top Features
Wide selection of shade types including roller, cellular, sheer, skylight, blackout, and more!
Lots of colors and patterns to choose from
The Neo Smart Hub connects your blinds to Alexa
Sources