There's plenty of options available, if you are looking to add some smart controls, like wireless connectivity, schedules and sensors to your bathroom lighting.
In this article we discuss smart recessed lights, smart light fixtures, smart bathroom light strips, smart bathroom mirrors with integrated lights, smart light switches, and even showerhead lights!
Top picks from each category
Option 1: Smart Bathroom Recessed Ceiling Lights
Smart bathroom recessed ceiling lights feature a metal light housing fixed into the ceiling. This gives the lights a more modern and minimalistic look, with a super neat ceiling. Different light options come with different features – you can control their intensity, color, or even the lighting schedule based on their designs.
An ultra-slim, multicolor-changing, RGB-tunable, white recessed lighting kit
The Globe Electric Recessed Lighting Kit features a multicolor design – letting you adjust color and brightness from anywhere. With the multi-color settings, you can create any ambiance you want.
Top Features
Voice-activated and compatible with Alexa and Google Assistant.
Wi-Fi connectivity, so no hub required.
540 lumens.
You can even customize lighting with daily routines for the perfect moments – whether you want to read as you do your business or sip a glass of wine as you soak in your tub. Furthermore, the lighting is Alexa- and Google Assistant-friendly – so you can voice control them.
Scenes
Through the Globe Suite app, you can create trigger scenes – so you can control multiple devices with a single tap. You can even create an Automatic Scene that only activates in the conditions you set up. The Globe Suite app also allows you to dim the LED lights from anywhere using your smart device; ensuring you get the lighting ambiance you want.

High lumen smart bathroom light
The Commercial Electric Smart Integrated LED Recessed Light Trim lets you customize your bathroom environment – whether you want romantic lighting or a more vibrant color profile.
Top Features
Compatible with Alexa and Google Assistant.
Wet-rated and perfect for bathrooms.
Adjustable temperature for white light & full RGB color spectrum.
You can choose a shade of white or select from a full color spectrum. Instead of using a hub, you can download the HubSpace app so you can make full use of the lights.
Groupings
You can even group multiple lights to control them from up to 30 feet in your home. Furthermore, the lights are voice-controlled via Google Assistant or Amazon Alexa.
Unlike smart lights of similar design, the Commercial Electric lights emit up to 700 lumens of brightness using only 9.5W bulbs. Plus, the smart bathroom light is wet-rated; making it perfect for bathrooms, showers, and pool decks. It also comes maintenance-free with no bulbs to replace.

A perfect smart lighting starter kit
The Halo Smart Integrated Lights are essentially a starter kit for your smart home lighting experience. The Bluetooth downlights function impressively thanks to their easy installation and user-friendly interface. All you need is to connect to the lights and the Halo Home mobile app using a Bluetooth connection – so you won't need any internet connection or a hub.
Top Features
Durable, with a lifespan of 50,000 hours.
Enhanced color saturation.
Wet- and damp-rated.
App Controls
Using the app, you can do anything from adjusting the color temperature and dimming the light to accessing special features such as scene-setting and automatic scheduling.
When you are about to leave the house, you can use the Internet Access Bridge to connect your Halo lights or other Halo Home products to your home's Wi-Fi system – letting you access and control lighting anywhere you are. Furthermore, the Halo lights are compatible with Amazon Alexa and Google Assistant for voice control.
Option 2: Smart Bathroom Ceiling Light Fixtures
Smart ceiling light fixtures come in different designs – chandeliers, pendants, or semi-flush ceiling lights. Similar to other smart lights, smart ceiling light fixtures don't necessarily need a switch in the wall. Instead, you can control them remotely.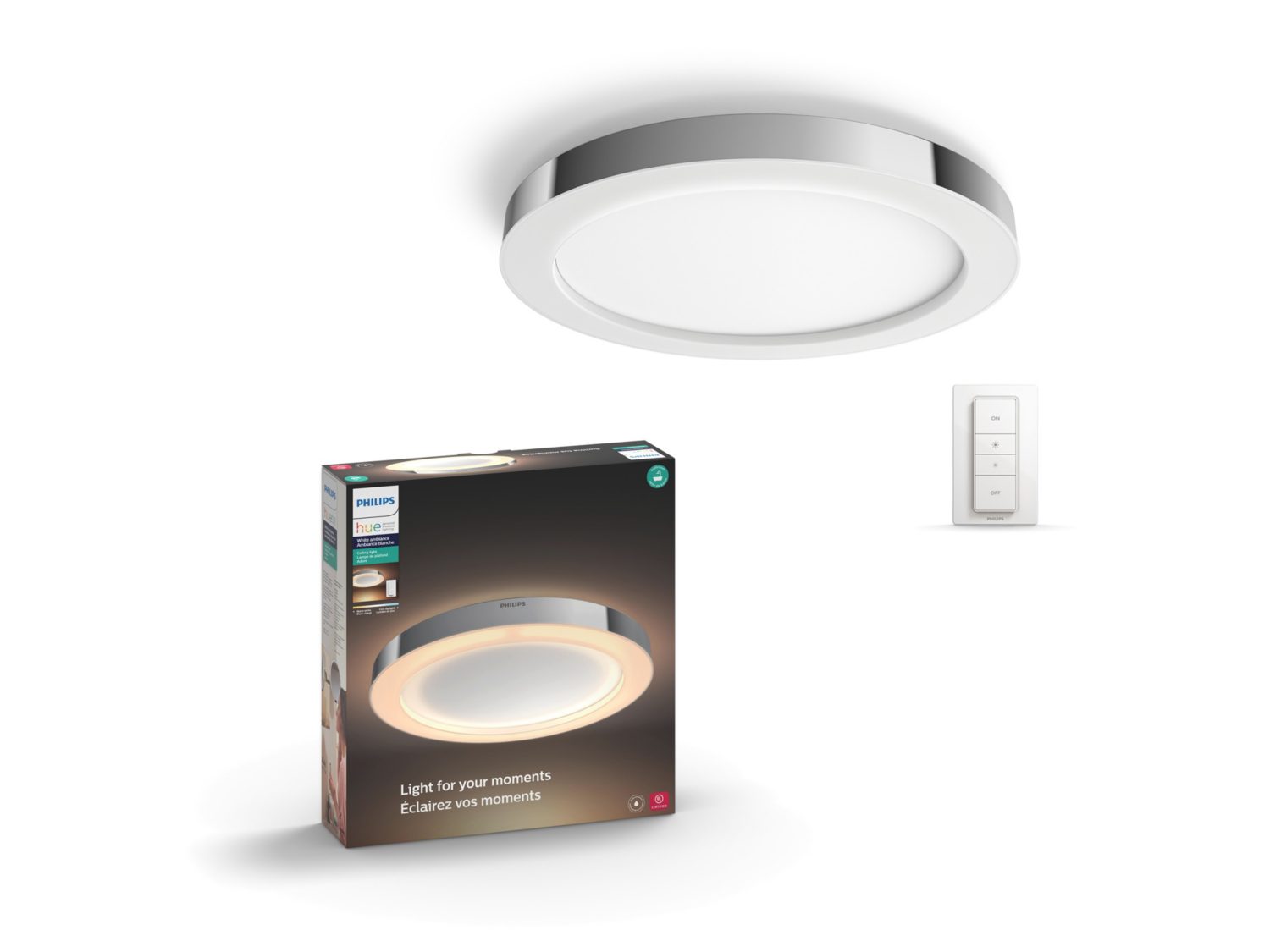 An attractive Hue Bridge-enabled smart light
The Phillips Hue Adore Ceiling Light is a stylish addition to your bathroom. The simple ceiling fixture features a chrome color option and a round design – matching any décor. To use the light's smart control, you have to connect it to the Hue Bridge, which is sold separately.
Top Features
Vast temperature range for white light.
Preset light scenes.
Dimmable.
Dimmer
The light also comes with a wall dimmer switch in case you want to go traditional. The light's versatile illumination lets you use it for any activity – you can use the tunable white light to read in your tub or the cool daylight to energize yourself.
In fact, the light comes with an array of color mixes – letting you choose any color ambiance you want from warm to cold. Additionally, the light fixtures feature an IP44 water-resistant rating which makes them great for humid environments such as a bathroom.
Smart Light Fixture With Bluetooth Speaker
Using the Horevo Waterproof Ceiling Light Fixture elevates the ambiance in your bathroom. Designed with a built-in Bluetooth speaker, the waterproof light fixture makes those imaginary concerts and single sessions during your showers even more enjoyable.
Top Features
Bluetooth speaker.
Color-changing feature.
IP65 rating and perfect for bathrooms.
Color Change
Furthermore, the ceiling light fixture integrates a color change function. The light features 6500k 1600LM daylight brightness for clearer lighting in the bathroom. Outfitted with 18W LED lights, illumination is equivalent to that of 150W.
You can even customize the mood in your bathroom using the gradient of colorful lights and single-color light modes. Additionally, the lights are built with added durability, the waterproof light fixtures feature an IP65 waterproof rating and up to 50,000 hours lifespan.
Option 3: Smart Bathroom Light Strips
Smart bathroom light strips feature a long circuit board with mounted light-emitting diodes which glow to light up your room. Light strips bring a unique ambiance to any room while their smart control feature lets you adjust and control them from anywhere.
A decorative, waterproof smart light strip
Installing the Govee Strip Lights opens you up to versatile ambiance settings thanks to its vivid multi-function. You can connect the lights with the Govee Home app using Bluetooth within a 60m range. Alternatively, you can use the RF remote that's included, which offers a control range of up to 10m.
Top Features
64 scene modes.
32.8 feet long.
Music mode.
Using the app, you have access to a range of different functions. You can choose to customize the colors, scene, synchronize music you want, or set an alarm with the push of a button. Furthermore, the smart light strip features an RGBIC lighting effect.
The RGBIC lighting effect lets you personalize each strip light segment for a more colorful display. The lights are IP65 water-resistant – withstanding splashes and humidity. Keep in mind, however, the adapter that comes with the lights is not waterproof.
Option 4: Smart Bathroom Mirror with Integrated Light
Using a 2-in-1 smart bathroom mirror and integrated light, you don't only have access to impressive lighting. You can also take your utility bathroom mirror to a whole new level with multiple settings and control options.
High-end smart bathroom mirror with integrated lights, and stereo system
The Kohler Smart Bathroom Mirror with Integrated Lights makes grooming sessions even more enjoyable thanks to its blend of different features. The smart mirror is first finished with a sleek, anodized aluminum body in a slim rectangular shape to complement and modernize any bathroom.
Top Features
Pivoting side mirrors.
Integrated stereo sound system.
Built-in microphone.
The body also gives it long-lasting durability providing a rust-free and chip-free finish. The Amazon Alexa-compatible device also integrates a built-in microphone for voice control interaction.
Furthermore, the Amazon Alexa compatibility lets you play music, listen to the news, check the weather, and even control home devices. An integrated sound stereo system offers great sound quality – allowing you to comfortably enjoy your music or favorite podcasts.
A large illuminated vanity mirror for bathroom walls
The Gesipor LED Bathroom Mirror features a large 48-inch by 36-inch area to add beauty and class to your bathroom wall. This large frameless design allows the mirror to provide multiple viewing angles. Made using free copper glass, the mirror is fitted with a unique defogger button that clears it up in just 3 seconds.
Top Features
Anti-fog mirror.
Dimmable lights.
Bluetooth audio.
Thanks to the built-in anti-fogging function, you don't have to worry about always needing to rinse the mirror or spray it with anti-fog spray. Around the mirror, you will also find an anti-leaking stripe tape that prevents light leakage for even better illumination brightness and quality.
The mirror is also outfitted with multiple LED backlight settings to suit your mood and routine. You can reset the color temperature between warm light and daylight or control the brightness dimmer with just a single 3-second press. The mirror even has a memory button that helps retain the last use of light.
Smart mirror with calendar, time, & temperature display
The Byecold Horizontal Vanity Touch Switch Bathroom Mirror integrates a single smart touch switch to simplify all your processes. Using the button, you can control three main functions – light, defogging, and weather forecast.
Top Features
Smart touch switch.
Dimmable LED illuminate light.
Anti-fog function.
The weather forecast function lets you connect to the WiFiClock app so you can get real-time network weather forecasts – with 11 different icons such as light rain, sunny, and overcast. On the other hand, the dimmable LED light function lets you choose the 3000K warm light or 6000K white light.
The defogging function makes bathroom mounting possible since it takes care of any water drops or mist on the mirror's surface. The mirror's multi-functional setting includes features such as a 12/24 hour clock, calendar, temperature, humidity, and alarm settings.
Option 5: Smart Bathroom Light Switches
If you can't afford to or simply don't want to, you don't have to replace your existing lighting fixtures. Instead, you can control the fixtures using a new smart bathroom light switch.
An Amazon Alexa-, Apple Homekit-, and Google Assistant-Compatible Light Switch
The Lutron Wallplate Light Switch lets you automatically adjust and control your lighting from anywhere. The smart switch even features a smart away feature to turn your lights on and off even when you are away.
Top Features
Compatible with a variety of smart home assistants/hubs.
3-way setup.
Compatible with 600W incandescent, halogen. ELC, MLV, CFL, & LED bulbs.
Thanks to the light switch's design, you don't have to replace the lights in your home with smart ones! For added functionality, the smart light switch is compatible with multiple smart home devices and assistants like Alexa, HomeKit, Google Assistant, and Serena Shades and Sonos.
However, you will need a smart bridge for this connection. Thanks to its 3-way control, you can control your lights using the switch itself on the wall, voice control, or the free iOS- and Android-friendly Lutron app. Using the app, you can create personalized schedules or activate your favorite lighting scenes.
Option 6: Shower Head Lights
Showerhead lights don't support fully-fledged smart controls and features. However, they still have their share of unique capabilities. Some of the prominent features you will enjoy from these types of lights include their impressive color-changing function.
5-setting LED color-changing showerhead & light
The Dream Spa Shower Head Light features a sleek, all-chrome finish and requires only running water to power it. Its extra-large, 5.25-inch chrome face with its reflective perimeter rim doesn't only add style to your shower but also helps enhance the functionality of the showerhead.
Top Features
5 pressure settings.
Auto-LED color changes based on temperature.
No batteries are needed.
Thanks to the 5 pressure settings, you can create the exact environment you want with limited or high-pressure settings. To help you adjust the water pressure, the showerhead is also fitted with a high-power 3-zone dial with rub-clean jets and a click action lever. 
Unlike regular lights, the headlight is controlled by water temperature and features a 3-color-changing water temperature sensor.
Showerhead with long-lasting LED lights
The Delipop Rainfall Showerhead doesn't require batteries or power to operate. All it needs is for the water in your bathroom to run. The lights feature a 3 color temperature sensor.
Top Features
3 color temperature sensor.
ABS chrome material.
Easy to install.
Common Questions Relating to Smart Lights for the Bathroom
Do Philips Hue lights work in the bathroom?
It depends. Typically, Phillips Hue lights are built for indoor and outdoor use. In the bathroom, they can be used inside a light-fitting wall which helps protect them. To ensure your Hue lights are safe in the bathroom, you want to ensure the design you choose is wet-rated.
 
Most notably, these lights help improve lighting in the bathroom – ranging from white light to colored light – depending on your ambiance preference.
What is damp-rated, wet-rated, and IP?
Smart bathroom lights should be damp- or wet-rated. Damp-rating means lights are protected in moist locations, but not from direct exposure to water. Wet-rating refers to lights that are protected from dripping water, rain, or liquid splashes or flow in the outdoors or indoors.
 
IP rating represents the sealing effectiveness of your product and how it is protected from water. For example, IP44 offers water-resistance while IP65 offers waterproofness.
The Verdict
Using smart bathroom lights, you can have your lighting needs conveniently taken care of wherever you are. With diverse available features, from color-changing functions to built-in stereo systems, these lights level your experience in the bathroom up.
An ultra-slim, multicolor-changing, RGB-tunable, white recessed lighting kit
The Globe Electric Recessed Lighting Kit features a multicolor design – letting you adjust color and brightness from anywhere. With the multi-color settings, you can create any ambiance you want.
Top Features
Voice-activated and compatible with Alexa and Google Assistant.
Wi-Fi connectivity, so no hub required.
540 lumens.
Sources